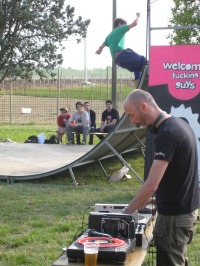 Spring 14
Star On 45 Dj Set
01-May-2014
I started to collect records in the Nineties, researching the original samples of the house music hits.
So I fell in love with 7" records: their format is easy to handle, the cover is often attractive, these objects remind to my childhood and to the legendary jukebox.
The collection was growing ,so in the early 2000 I started rarely playing Funk/Disco music, basically in the beginning of the parties during the "warm-up", on the other hand at that time I was mainly involved managing some parties (but contemporary music: electro, house and techno) with nowadays famous dee-jays such as: Federico Marton – Italoboyz (Superfictions) , Marco Shuttle (Brut!) and Re-up (Kina Music).

During the latest 4 years (2009-2013) this passion grows again, going on with the record collection and focusing my research into the Funk music roots, trying to understand the black culture and introducing even Afro and Soul genres. The project of "STAR ON 45 dj set" is finally raised…

This name is inspired by one of my favorite covers of the 70's disco music, the record was in my father's collection , I used to play it when I was a child.

I live in Treviso close to Venice- Italy. Djing is my passion, I would like to offer an high quality selection to the parties where I use to play.
Artist
Title
Label
Date

Price

1
JONES, Gloria

Tainted Love

(7")

Soul Tribe

30 Apr 14
$10.17
Cat:

ST 1003


Genre: Funk
2
MAW/DJ BEAT/JASON BINKS

Hippie Funk EP (Record Store Day 2014)

(7")

Dee-Kay Colo-Rama

01 May 14
$7.97
Cat:

DK 001


Genre: Funk
3
WGANDA KENYA/FRUKO Y SUS TESOS

Colombian Funk & Latin Gems 45 (warehouse find)

(7" in hand-stamped kraft paper inner sleeve + Juno exclusive branded jacket + sticker)

Mukatsuku

18 Jun 18
$5.48
Cat:

MUKAT 029


Genre: Funk
4
GAY PHILADELPHIANS

Hot Pants Road

(7")

Tropico

10 Oct 13
$7.97
Cat:

GP 1001


Genre: Funk
5
SALT

Hung Up

(limited 7")

Choctaw Reissues

24 Oct 13
$8.52
Cat:

SALT 01


Genre: Funk
6
TOMINAGA, Yosuke aka DJ CHAMP

Haze Part 1 & 2

(limited 7")

Kay Dee US

17 Apr 14
$14.56
Cat:

KD 035


Genre: Funk
7
THIRD COAST KINGS

Just Move

(limited transparent vinyl 7")

Record Kicks

01 May 14
$6.32
Cat:

RK 45053


Genre: Funk
8
TORPEDO BOYZ

(Hey You) The Rock Steady Crew (Record Store Day 2014)

(limited gold vinyl 7")

Lounge Germany

29 Apr 14
$6.32
Cat:

LR 08414


Genre: Broken Beat/Nu Jazz
9
SMITH, Ed

Ed Smith Presents The Michael Remixes

(7")

EDR France

01 Dec 08
$6.87
Cat:

EDR 004


Genre: Funk