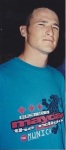 Top Track Chart
OZ-J
12-March-2013
DJ/Producer - OZ-J
OZ-J is one DJ/PRODUCER/PROMOTER who has contributed to dance music evolution in Northern Australia.
OZ-J is reknown for his silky smooth deeply overlayered seamless and innovative mixing style.
Since 1995, OZ-J has played hundreds of major parties in Northern Australia along side world famous deejays such as Derrick May(USA), Tony DeVit(UK), Pete Wardman(UK), Dave Lee & Andy Passman(UK), Loved Up(UK), Judge Jules(UK), DaHool(Germany), Deejay Tom(Germany) and Baby Doc(UK). OZ-J is currently working on his own breed of house & techno tracks designed to work crowds into a frenzy.
Artist
Title
Label
Date

Price

1
65D MAVERICKS, The

Estrangement Of The Past

(clear vinyl 12")

Surface

08 Mar 13
$8.29
Cat:

SFLTD 003


Genre: Techno
2
A SAGITTARIUN

Transparent Mind EP

(12")

Elastic Dreams

20 Feb 13
$7.73
Cat:

EDREAMS 005


Genre: Techno
3
ADALBERTO

Dance Maniac

(12")

Crime City

11 Mar 13
$8.83
Cat:

CC 03B


Genre: Techno
4
ADVENT, The/A PAUL

Veron (remixes)

(12")

Onhcet Portugal

22 Feb 13
$8.83
Cat:

ONHCET 1201


Genre: Techno
5
ANGELIS, Dimi/JEROEN SEARCH

Execute

(12")

A & S Germany

06 Mar 12
$8.83
Cat:

A&S 001 BLACK


Genre: Techno
6
ANGELIS, Dimi/JEROEN SEARCH

One On One

(12")

A & S Germany

04 Feb 13
$8.83
Cat:

A&S 004BLACK


Genre: Techno
7
ANJA/785

Basswalker Part II

(12")

Isolated System

24 Jan 13
$8.57
Cat:

ISO 002


Genre: Techno