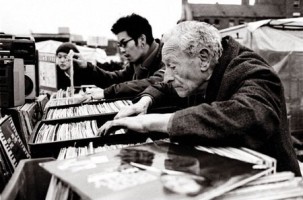 JOYFUL GROOVES RADIO SHOW EVERY FRIDAY MORNING 1AM - 7AM
GLYN THORNHILL
23-February-2016
Spinning @Legacy 90.1 fm every Friday morning with The Joyful Grooves Radio Show broadcasting live out of South Manchester .
Available on the tune in app worldwide.
Check our dedicated Facebook page for playlists .
https://www.facebook.com/Joyful-Grooves-RADIO-SHOW-207586139591416/
CratesOfSoul selling vinyl on Ebay and Discogs .
Check our store today #soul#funk#northern soul #jazz vinyl delights.
http://stores.ebay.co.uk/CRATESOFSOUL

Follow us on twitter :@cratesofsoul

http://www.cratesofsoul.com
Purchase our 45 limited edition soon be deleted out of stock !!
Artist
Title
Label
Date

Price

1
SPACEARK

Do What You Can Do

(limited 7" to 200 copies)

Crates Of Soul

25 Feb 16
$14.10
Cat:

CS 002


Genre: Disco/Nu-Disco
2
DODDS, Troy

Try My Love (mono)

(7")

Kent Town

28 Jan 16
$6.91
Cat:

TOWN 160


Genre: Soul
3
TEE, Ralph/VARIOUS

Luxury Soul 2016

(unmixed 3xCD)

Expansion

12 Jan 16
$12.44
Cat:

CDBEXP 16


Genre: Soul

The Sound Principle - "Heartbreaking" (classic mix)
Gene O - "Love In My Eyes"
Chazz Mac - "Love Crazy"
Daniel March - "Falling"
Mariama Ceesay - "Soon Ending Story" (Robyn Lazlo mix)
Antwyn Jackson - "Still"
Latrese Bust - "Because Of You" (feat Noel Gourdin)
Kejam - "Diamonds" (feat Terry Harris)
Sun Soul Orchestra - "Can't Deny It" (T Groove remix)
Diane Marsh - "Promise"
David Morin - "Heaven"
Zed Soul - "Papa, You Are My Hero" (feat Noel McKoy & Najee)
The R&B Soul Orchestra - "Call On Me"
Candace Woodson - "Free" (Tom Glide remix)
James Day & Darren Polite - "DUI (Dancing Under The Influence Of Love)" (feat Cleveland Jones)
Tristan - "Keep On" (GMC remix)
Dasha Logan - "Leave Your Man" (Soul Talk remix)
Tony Momrelle - "Different Street" (feat Tony Remy)
Katie Leone - "Yellow Flower"
The Sensationalles - "Crystal Clear To Me" (Nigel Lowis mix)
Matthew Winchester - "The Other Side"
Marc Staggers - "So Amazing"
Ian Martin - "Treat You Right" (feat Jill Zadeh)
Sham De Re - "Funky Maharaja" (feat Xantone Black - heavy funk mix)
James Day & Darren Polite - "It's All Divine" (feat Trina Broussard & U Nam)
Paul Johnson - "The Road"
Victor Haynes - "Amazing"
Carmichael Musiclover - "Unconditional"
Damon Cooper - "Will You Be My Lady"
Ian Martin - "One On One" (feat Jill Zadeh)
Aaron Parnell Brown - "Leave The Light On"
Tracy Hamlin - "Plans For Two"
Tyrone Lee - "Listening To Your Heart"
Dunn Street - "Even A Fool"
Kashif - "Help Yourself To My Love" (live)

4
WILCOX, Nancy/LORRAINE CHANDLER

He'll Be Leaving You

(7")

Pied Piper

28 Jan 16
$8.29
Cat:

PIPER 009


Genre: Soul
5
WRIGHT, Milton

Original Friends & Buddies

(CD)

Athens Of The North

05 Feb 15
$11.00
Cat:

AOTNCD 001


Genre: Soul

Friends & Buddies (version 1)
The Silence That You Keep
Po' Man
Brothers & Sisters
My Ol' Lady
Nobody Can Touch You
Black Man
Get No Lovin' Tonight
Friends & Buddies (version 2)
Brothers & Sisters
Get No Lovin' Tonight
Po' Man
Keep It Up
My Ol' Lady
Black Man
The Silence That You Keep
Nobody Can Touch You
Ooh Ooh I Love It

6
LOST GENERATION, The

Young Tough &Terrible

(LP)

Brunswick

02 Oct 15
$13.54
Cat:

BL 754178


Genre: Soul

This Is The Lost Generation (vocal) (3:32)
Tired Of Being Alone (5:45)
All In The Course Of A Day (3:14)
You've Got To Crawl Before You Walk (3:26)
Sure Is Funky (3:42)
The Young, Tought & Terrible (3:02)
Paulette (3:02)
Thin Line Between Love & Hate (3:38)
One More Bridge To Cross (3:26)
This Is The Lost Generation (instrumental) (3:30)

7
HAMMOND, Johnny

Gears : Remastered + 6

(gatefold 2xLP)

BGP

24 Sep 15
$20.83
Cat:

HIQLP 2034


Genre: Funk

Tell Me What To Do (5:17)
Los Conquistadores Chocolates (6:06)
Lost On 23rd Street (5:50)
Fantasy (6:01)
Shifting Gears (5:08)
Can't We Smile? (4:32)
A Child's Love (fast) (4:33)
A Child's Love (slow) (5:28)
Song For The Family (6:03)
Detroit Rainbow (3:57)
Funky Native (4:08)
Can't We Smile? (alt) (5:37)

8

VARIOUS

Love & Affection: More Motown Girls

(unmixed CD)

Ace

02 Nov 15
$11.61
Cat:

CDTOP 1455


Genre: Soul

Brenda Holloway - "Reassure Me That You Love Me"
Gladys Knight & The Pips - "Any Girl In Love (Knows What I'm Going Through)"
Barbara Randolph - "My Love is Your Love (Forever)"
Martha Reeves & The Vandellas - "This Is The Love (I've Been Waiting For)"
Debbie Dean - "I Can't Make It Without You"
Liz Lands - "Midnight Johnny" (early version)
The Lewis Sisters - "Many Good Times"
LaBrenda Ben - "Just Go On Sleeping"
Brenda Holloway - "Lonely Teardrops"
Hattie Littles - "Now That Love Is Gone"
LaBrenda Ben - "Fugitive"
Linda Griner - "Envious" (fast version)
Connie Haines - "Mr Pride & Mr Gloom"
Oma Heard - "Momma Tried To Warn Me"
Chris Clark - "Check Yourself"
Barbara McNair - "Come Back Half Way"
Martha Reeves & The Vandellas - "Mother Tell Me What To Do"
The Marvelettes - "Girls Need Love & Affection"
Rita Wright - "Give Back The Good Things"
The Lollipops - "Go For Yourself"
Barbara McNair - "The Good Times Are Gone"
Gladys Knight & The Pips - "The Things Time Can't Erase"
Yvonne Fair - "Close My Crying Eyes"
Chris Clark - "Forgotten"
Kim Weston - "Lover Man (Oh Where Can You Be)"

9

VARIOUS

Soul Togetherness 2015

(unmixed CD)

Expansion

01 Oct 15
$12.44
Cat:

CDEXP 51


Genre: Soul

Charlie Wilson - "Hey Lover"
Opolopo - "Round & Round" (feat Diane Charlemagne)
Winans Borthers - "Dance" (feat The Clark Sisters - Louie Vega Latin Soul mix)
Paris Toon & Mothers Favorite Child - "Reflections Of A Disco Ball" (feat Tanya Tiet)
Syeena Johnson - "All This Way For Love"
JD73 - "Believe In Love" (Soulpersona mix)
Joe Buhdha presents Terri Walker - "Feel Right"
McCrei - "Show Me" (Nigel Lowis remix)
Lorraine Clarke-McGhie - "Do You Know?"
Ashling Cole - "Give It To You"
Aaron Parnell Brown - "Somewhere Around" (Soul Talk remix)
Kenya - "Let Me" (Tom Gilde rework)
Diplomats Of Soul - "Sweet Power You Embrace" (feat Incognito & Vanessa Haynes)
Creators - "Just You & Me"
Los Charly's Orchestra - "All Around The World" (feat Xantone Blacq - extended version)

10
REN, Marta/THE GROOVELVETS

Stop Look Listen

(CD)

Record Kicks

18 Feb 16
$11.89
Cat:

RKX 060


Genre: Soul
11
JONES, Gloria/THE TIARAS

Gone With The Wind Is My Love

(7")

Record Shack Austria

04 Aug 15
$9.40
Cat:

RS45 016


Genre: Soul