How do I cast my vote?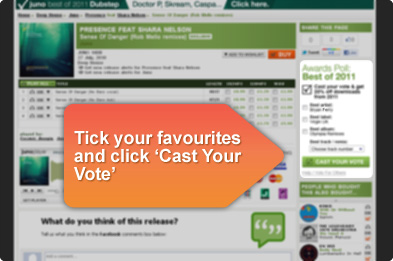 It's simple! Make sure you login/register with Juno, then just search for a title, label or artist and click through to their page to vote.
Tick the check-boxes next to each category and enter your favourite track/remix number if you're on a release page. Then click "CAST MY VOTE.
You don't have to vote in each category if you don't want to, and you can vote more than once as long as your voting for different candidates each time. (Multiple votes for the same candidates will be disqualified.)
Remember: If you're voting for specific tracks and releases, they must be from 2011. You cannot vote for titles from before or after 2011.
Once you've voted, a lightbox will appear where you can "Like" us on Facebook to reveal your discount code (which may take a few seconds to appear).
If the Like button is already checked, it's because you already Like JunoDownload on Facebook. Just "unlike" us, by clicking on the tick within the Like button, then click Like again to reveal the code. If you can't see the Like button at all, then try accessing the page from a different computer or network.
The discount code entitles Juno customers to 20% off all download tracks and releases from the year 2011. Code expires on February 19th 2012. Voting closes on February 19th and results will be posted on the JunoDownload Facebook page once they've been counted and verified. If you have any problems then let us know here
Search for your favourites: