Items 1 to 2 of 2 on page 1 of 1
Cat: OSV 172. Rel: 17 Apr 18
Soul
Soul Brothers Six - "I'll Be Loving You" (2:18)

Willie Tee - "Walkin' Up A One Way Street" (2:44)
Review: Outta Sight's latest monthly rare soul missive contains hard-to-find and overlooked classics from "hard-hitting" New Jersey vocal group Soul Brothers Six and New Orleans Rhythm and Blues man Willie Tee. It's the former's wonderfully sweet and loose "I'll Be Loving You" (first released in 1966, fact fans) that takes pride of place on the A-side, serving up a lightly sauteed soul take on the rhythm and blues template. Willie Tee's 1967 jam "Walking Up A One Way Street", a summery affair blessed with a superb horn section, leisurely groove and brilliant lead vocal from the man himself, can be found on the B-side.
…

Read more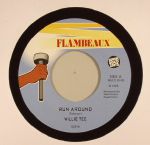 Cat: SDE 18. Rel: 11 Aug 16
Soul
Run Around (4:50)

Run Around (Sparse mix) (4:48)
Review: Having released on classic powerhouses such as Capitol and Atlantic, as well as other lesser known but equally coveted soul labels, we can safely say that Wilson John Turbinton aka Willie Tee is up there with the greats. The multi-talented keyboardist and vocalist released an astounding volume of music before his death back in 2007, and not all of it easy to come by these days. So, we're pleased to see "Run Around" previously unissued and now on 7" for Super Disco Edits because it's a funky and timeless soul ballad with a warm twist and a touch of sexiness for the dance. The 'Sparse' mix on the flip is perhaps less seductive but Turbington lays out more space for his own vocal charm on this version. Excellent.
…

Read more
Items 1 to 2 of 2 on page 1 of 1