Items 1 to 3 of 3 on page 1 of 1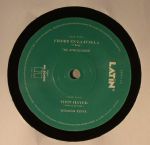 Cat: LATIN45 010. Rel: 26 Mar 15
International
The Afrosound - "Fiebre En La Jungla" (3:13)

Wganda Kenya - "Tipit Heyd" (3:39)
Review: Two previously rare Julio Ernesto 'Fruko' Estrada productions on one super-juicy 45! First up are The Afrosound with a cover of The Chakachas' instantly recognisable "Fiebre En La Jungla". Throwing an array of steamy, sensuous vocal textures, it will cause some serious heat on any floor whose dancers knows the original. We remain in Columbia on the B as one of Wganda Kenya's rarest Disco Fuentes 45s gets a revisit. Heavily percussive cumbia laced with rich organ-primed funk, things get really hypnotic when the groove strips back to the insistent rhythm devices.
…

Read more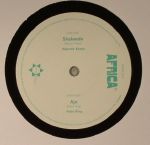 Cat: AFR 45012. Rel: 24 Feb 16
International
Wganda Kenya - "Shalaode" (5:05)

Peter King - "Ajo" (3:56)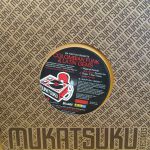 Cat: MUKAT 029. Rel: 18 Jun 18
Funk
Wganda Kenya - "Tipit Hayed" (Blundetto remix -Nik's edit)

Fruko Y Sus Tesos - "Salsa Na Ma" (original mix)
Review: Two more slices of official dance floor dynamite from the Disco Fuentes catalogue get unleashed on the strictly vinyl only, singles only Mukatsuku Record label for summer 2013. First up is an unreleased version of the popular Wganda Kenya club favourite 'Tipit Hayed' which Blundetto had done a few years ago for his own DJ sets but never surfaced commercially. On the flipside a bona fide salsa funk monster which a piano intro to die for from Fruko Y Sus Tesos. The Juno edition of the single comes in exclusive packaging of kraft paper hand stamped inner sleeve,additional branded card sleeve,sticker and plastic protective outer sleeve. As played by Joey Negro, Sadar Bahar,Ashley Beedle, Adesse Versions,Eddie C etc etc...

…

Read more
Played by:
Dave Lee / Joey Negro
,
Shantisan
,
Pete Isaac (Jelly Jazz)
,
Powlo Thirsty Ear
,
Mukatsuku Records Chart
,
Athens of the North (Fryer)
,
Koichi Sakai - Ghetto Lounge
,
Mr. Fiel
,
AfroBase (Radio Chart)
,
Dom Servini
,
DEEJAY PHAROAH ( FUNKY SATURDAY )
,
Boogieburg
,
Adesse Versions
,
Paul Thornton (Dig Deep / Reboot)
,
Adam isbell -Racubah Sound System
,
Los Charly's Orchestra
,
Nick Carling (Fruitful/1BTN)
,
Hubbz
,
Diesler
,
Voodoocuts
,
ISOUL8 (Volcov)
,
ASHLEY BEEDLE
,
Bosq
,
JC - Here And Now Recordings
,
Record Kicks
,
Sir Jarvis - Badass 45 Records
,
Rebecca Vasmant
,
Juno Recommends Funk/Reissues
,
Agogo Records
,
Eddie C
,
Killer Funk Records USA
,
Afro Beat Foundation
,
Suonho
,
I Love Disco!
,
Marc Hype
,
Rowed Out Records
,
Summer Carnival Chart
,
Osmose
,
I Love 45's!
,
DJ Raw Sugar
,
The Jazz Meet
,
Ex-Friendly (Truth & Lies Music)
,
Skyline Recordings Chart
,
Sccucci Manucci
,
Renegades Of Jazz
,
Mitchell Goor
,
Simon Ozbizton/EYESHRWD
,
Djs: Most Charted - Funk
,
Gu / Our Label Records
,
MonkeyPocket
,
KS French
,
Originals
,
Brainlab Groove
,
Iga
,
Giovanni Damico
…

Read more
Items 1 to 3 of 3 on page 1 of 1