Artists
Items 1 to 2 of 2 on page 1 of 1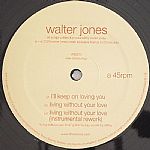 Cat: DFA 2212. Rel: 25 May 09
Disco/Nu-Disco
I'll Keep On Loving You

Living Without Your Love

Living Without Your Love (instrumental rework)
Played by:
Dicky Trisco
,
Mudd
,
Owain Kimber (Owain K)
,
Andy Ticker
,
Lerosa
,
JAZ
,
THE RHYTHM ODYSSEY
,
Max Essa
,
Ritesh (Adult Contemporary)
,
Juno Recommends Disco
,
LadyBugz
,
Resident Advisor
,
DJ History
,
Tim Sweeney Beats In Space
,
Lucci Capri (Messalina)
,
Chamboche
,
Astral T (Astral Love Affair)
,
Scott Ferguson (Ferrispark Records)
…

Read more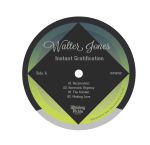 Cat: WPW 002. Rel: 20 Mar 17
Disco/Nu-Disco
Razzamatazz (5:31)

Harmonic Urgency (5:55)

The Grinder (5:17)

Making Love (4:48)
Review: Over the years Walter Jones has brought his smooth as silk disco sound to the likes of Westbound Records, DFA and Permanent Vacation, so there's no doubting his proficiency. Now he slides up to Whiskey Pickle with a set of pristine shakers that nod to his experience in the field, not least on opening track "Razzamatazz" with its chic lead lines and insistent groove. "Harmonic Urgency" is a sleazier affair with its cheeky bassline and slower tempo, but by way of contrast "The Grinder" ups the ante with a propulsive house backbone behind the sizzling disco elements. "Making Love" provides an alternate ending to the record with spaced out beatless daubs of synth.
…

Read more
Played by:
RiCHARD.GEAR (Whiskey Pickle)
,
Dj N◉va ▶ Rodon FM 95
,
Jac The Disco
,
Jacques Renault
,
Sleazy McQueen
,
Dreamtime Records
,
Neil Diablo
,
Osmose
,
James Duncan
,
Tim Zawada
,
ADAM WARPED aka Johnny Blackouts
,
Paul Withey / Sweetooth
,
VinylAddicted
,
Shaka (KolourLTD, Balance Alliance)
,
The Silver Rider
,
Whiskey Pickle Records
…

Read more
Items 1 to 2 of 2 on page 1 of 1