Items 1 to 3 of 3 on page 1 of 1
Cat: AMP 014.1.
Minimal/Tech House
Division

Sidepoint

Give Receive

Border Patrol

Interstice
Confine

Expand
Review: Vlad Caia returns on Shahr Farang





…

Read more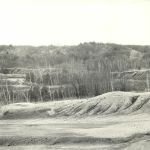 Cat: MEANDER 0201. Rel: 26 Jul 17
Minimal/Tech House
Ion Ludwig - "Mitad Del Mundo" (8:07)

Vlad Caia - "Slowsetup" (9:08)
Review: Five years on from the release of the rather fine Family Jubilee compilation, Meander has decided to put out a follow-up. This time around, the Berlin-based label has decided to stretch the material over three EPs, rather than one weighty triple-pack. This first 12" begins with a fine chunk of woozy, tech house/deep house fusion from Ion Ludwig, whose "Mitad Del Mundo" achieves a near perfect balance between rhythmic hypnotism, bassline-driven funkiness and the ghostly fluidity of late night ambient. Bucharest-based Vlad Caia handles the flipside, in the process delivering a typically trippy chunk of rolling Romanian tech-house.
…

Read more
Items 1 to 3 of 3 on page 1 of 1