Artists
Items 1 to 2 of 2 on page 1 of 1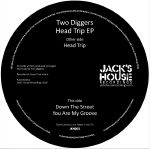 Cat: JKH 003. Rel: 22 May 17
Deep House
Head Trip

Down The Street

You Are My Groove
Review: The Two Diggers project has been steadily increasing in productivity since first emerging in 2015, and now it makes the move to Jack's House Recordings with this no-nonsense three-tracker. "Head Trip" keeps things simple but utterly effective with a crisp beat, subby bassline and catchy lead arpeggio, while "Down The Street" takes a groovier, albeit equally stripped back, approach. "You Are My Groove" spreads itself across the B-side with a brighter disposition that lets warm and soulful samples slip in between the classic house rhythms. If you're looking for straight-up jams that will do the business on the floor, look no further.
…

Read more
Cat: JKH 007. Rel: 29 Jan 18
Minimal/Tech House
Two Diggers - "Trick Me"

James Dexter - "Cables"

2VILAS - "Verve"

Miffy & Miller - "Vertiver"
Review: Celebrating a year since the birth of Jack's House recordings is the perfect time to introduce JACKS TRACKS VA series. Volume 1 includes tracks from established and new talent with Two Diggers from France with previous release Head Trip on the label plus releases on Djebali, Organic and more, 2VILAS (Wax Igsud) from Ibiza also with releases on Organic and Isla Records , James Dexter (Inermu) from the UK with releases also on Cyclic, Dessous and Poker Flat. Last but by no means least, Miffy & Miller (Real Gang) also from the UK with a previous release on In Haus Wax. A 4 track EP of solid underground house tracks from dedicated talented music makers.





…

Read more
Items 1 to 2 of 2 on page 1 of 1