Items 1 to 2 of 2 on page 1 of 1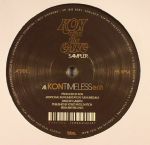 Cat: BBE 362SLP. Rel: 03 Aug 16
Disco/Nu-Disco
Kon - "Timeless" (Caserta mix) (8:10)

Kon - "Timeless" (remix - Caserta mix) (5:38)

Rainer Truby & Corrado Bucci presents Truccy - "Closer" (6:34)
Review: From Kon's forthcoming compilation on BBE entitled Kon & The Gang, this 12? sampler features two cuts taken from the LP and an exclusive remix from Boston producer and mix engineer Caserta, namely "Timeless" (Caserta mix)" a tasty serving of super deep and low slung disco goodness. A more functional edit for DJ use follows on "Timeless" (remix - Caserta mix)". On the flip Truccy (better known as Compost's Rainer Truby and Corrado Bucci) present "Closer", a gorgeous slo-mo house jam with a rolling groove fetauring all the good stuff: swirling Rhodes keys, groovy congas and hypnotic vox.
…

Read more
Played by:
JimmyTheTwin
,
Dj N◉va ▶ Rodon FM 95
,
Secret Reels
,
Replika (Quintessentials)
,
Alex Zuiev
,
Dave Allison (Editorial)
,
Chris Rhythm / SUPER MOTION
,
Mike W - Kolour LTD
,
Juno Recommends Disco
,
SoulBrigada | Matasuna Records
,
I Love Disco!
,
Osmose
,
Brame & Hamo
,
Jean Claude Gavri
,
Bradford James (DS Records)
…

Read more
Cat: VLM 001.
Disco/Nu-Disco
Tabala Mouv (Aroop Roy rework)

Tabala Mouv (Truccy edit)

Tabala Mouv
Review: "Vive La Musique brings you an official reissue and rework of the unique and highly sought after Zouk track 'Tabala Mouv'. The song is is the standout composition from the ultra-rare 'Tabala' series, released on vinyl in the mid 80s. After many months of searching, label head Aroop Roy managed to track down songwriter and producer, Maurice Agad, to the Caribbean island of Martinique. The 12" includes the original track and two brand new versions, making a special package that many are touting as one of the soundtracks of the summer.

In the original, Detroit-esque keys and a Balearic beat captivate you from the opening bars and uplifting vocals and a euphoric horn section combine to transport you to an idyllic paradise. Aroop Roy steps up the tempo and flips the groove for a trademark rework that will have universal appeal to house, disco and tropical music fans. The release is made complete with a subtle extended edit from Truccy.

The package is presented with beautiful full cover artwork, limited to the first pressing, which is likely to go very quickly.
"





…

Read more
Items 1 to 2 of 2 on page 1 of 1