Artists
Items 1 to 2 of 2 on page 1 of 1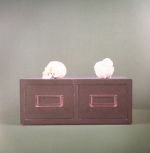 Cat: BLACKEST 041. Rel: 16 Nov 15
Coldwave/Synth
The Dull Age (5:20)

Victims (4:42)

Be Brave (7:00)
Review: Blackest Ever Black serve up a double dose of Tropic Of Cancer goodness this week, with the fresh material from Camella Lobo complemented by this Archive: The Downwards Singles 12". The smarter cookies out there will glean the content from the title, with BEB gathering together the earliest Tropic of Cancer material issued through the DO sublabel of Karl O'Connor's Downwards label. These three tracks were recorded in Tropic Of Cancer's original iteration of Lobo and Juan 'Silent Servant' Mendez, a time when the band was exploring a more explicitly bleaker, hazier sound. The motorik stomp and yelping Mendez vocals of closing track "Be Brave" remains a thrilling experience to sink into.
…

Read more
Cat: BLACKEST 049. Rel: 16 Nov 15
Ambient/Drone
Stop Suffering (5:33)

I Woke Up & The Storm Was Over (7:02)

When The Dog Bites (5:40)
Review: Blackest Ever Black have performed an interesting exercise in issuing this new 12" from Tropic Of Cancer along with the Archive: The Downwards Singles collection; as it allows you to hear first-hand how Camella Lobo's band has progressed musically in a few short years. This three track 12" is her first new music since that excellent debut TOC LP, and finds Lobo working with Joshua Eustis of Telefon Tel Aviv. A few words that come to mind when listening to this exquisitely produced record: ethereal, beautiful, immense, hypnotic, and incandescent. Few artists can wrench such emotion from such sparseness of sound. This records shows that Camella Lobo is one of them.
…

Read more
Items 1 to 2 of 2 on page 1 of 1