Items 1 to 1 of 1 on page 1 of 1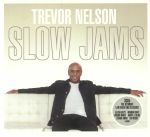 Cat: 538064 8. Rel: 12 Jan 18
Hip Hop/R&B
Alicia Keys - "If I Ain't Got You"

En Vogue - "Don't Let Go (Love)"

Usher - "Burn"

Alexander O'Neal - "If You Were Here Tonight"

Marvin Gaye - "Let's Get It On"

Lionel Richie - "Love Will Find A Way"

Soul II Soul - "Missing You" (feat Kym Mazelle)

Mary J Blige - "Be Without You" (Kendu mix)

Brandy - "Almost Doesn't Count"

D'Angelo - "Brown Sugar"

Jodeci - "Cry For You"

Blackstreet - "Don't Leave"

Bobby Brown - "Roni"

Randy Crawford - "You Might Need Somebody"

Barry White - "I'm Gonna Love You Just A Little Bit More Baby"

Teddy Pendergrass - "Love TKO"

Gregory Abbott - "Shake You Down"

Simply Red - "Holding Back The Years"

Bruno Mars - "That's What I Like"

The Weeknd - "The Hills"

Ne-Yo - "Sexy Love"

LL Cool J - "Hey Lover" (feat Boyz II Men)

Ashanti - "Foolish"

Patrice Rushen - "Remind Me"

Rose Royce - "Wishing On A Star"

Aretha Franklin - "Until You Come Back To Me (That's What I'm Going To Do)"

Anita Baker - "Feel The Need"

Freddie Jackson - "Rock Me Tonight"

Eugene Wilde - "Gotta Get You Home"

Keith Sweat - "Make It Last Forever" (with Jacci McGhee)

Johnny Gill - "My, My, My"

Brian McKnight - "Anytime"

Changing Faces - "GHETTOUT"

Mica Paris - "I Should've Known Better"

Rufus & Chaka Khan - "Sweet Thing"

The Isley Brothers - "Summer Breeze"

Color Me Badd - "I Wanna Sex You Up"

R Kelly - "Bump & Grind"

Bobby V - "Slow Down"

J Holiday - "Bed"

Robin Thicke - "Lost Without U"

Amy Winehouse - "Love Is A Losing Game"

Force MD's - "Tender Love"

Bobby Womack - "If You Think You're Lonely Now"

Roy Ayers - "Everybody Loves The Sunshine"

Timmy Thomas - "Why Can't We Live Together"

Eddie Kendricks - "Intimate Friends"

Tony! Toni! Tone! - "It Never Rains (In Southern California)"

Maze - "We Are One" (feat Frankie Beverly)

The SOS Band - "Weekend Girl"

Zapp - "Computer Love"

Brenda Russell - "A Little Bit Of Love"

Jill Scott - "A Long Walk"

Joe - "All The Things (Your Man Won't Do)"
Items 1 to 1 of 1 on page 1 of 1