Items 1 to 2 of 2 on page 1 of 1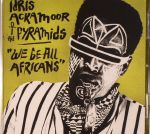 Cat: STRUT 144CD. Rel: 30 May 16
Jazz
We Be All Africans

Epiphany

Silent Days

Rhapsody In Berlin

Clarion Call

Traponga

Whispering Tenderness
Review: Those turned on by Spiritual Jazz should already be aware of West Coast combo Idris Ackamoor & The Pyramids. They've been playing and recording together since the 1970s, though We Be All Africans is only their sixth full-length outing. Predictably, it's a fine set, effortlessly fusing their spiritual roots with elements of jazz-funk, soul and, of course, Afro-jazz. Highlights are plentiful, from the swinging, Tony Allen style rhythms, swirling vocals and punchy horns of "Rhapsody In Berlin", and the clarinet-sporting sweetness of the brilliantly percussive "Epiphany", to the stretched-out drum workout "Traponga", which sounds like the work of three drummers and a whole troupe of percussionists.
…

Read more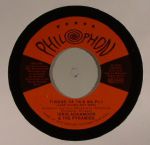 Cat: PH 45010. Rel: 23 Jan 17
Jazz
Tinoge Ya Ta'a Ba (part 1) (3:27)

Tinoge Ya Ta'a Ba (part 2) (2:45)
Review: Following their surprise reunion and Strut-release album We Be All Africans last year, Idris and The Pyramids return... This time on Max Weissenfeldt's Philophon imprint. Laying down a spiritual arrangement so frenetic and full of its own life it takes up two parts, Idris's sax plays duet with Philophon's own vocalist Guy One. Gutsy, raw and full of surprises, it's another out-of-body experience from the longstanding jazz troupe.
…

Read more
Items 1 to 2 of 2 on page 1 of 1