Items 1 to 1 of 1 on page 1 of 1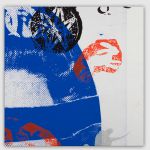 Cat: BASIC VISION 002. Rel: 30 Apr 18
Deep House
Crustation - "Flame" (Mood II Swing Border Infinty dub)

51 Days - "Paper Moon"

Terence FM - "Feelin Kinda High"
Review: Ralph Lawson's position at the helm of the 20:20 Vision label and Leeds' infamous Back To Basics means he's the perfect pick to draw out some classics and give them a fresh airing. The three tracks he's presented here are essentials in anyone's collection, leading in with the arresting deep house swirl of Mood II Swing's "Infinity dub" of "Flame" by Crustation. 51 Days' "Paper Moon" is a more emotionally flamboyant jam, but no less unique and curious in its make up, all cinema strings and bubbling keys with a seriously sensual undercurrent. Terence FM's "Feelin Kinda High" is absolute deep house gold dust, all massive drums and punchy bass, addictive vocal and naught else.
…

Read more
Items 1 to 1 of 1 on page 1 of 1