Items 1 to 2 of 2 on page 1 of 1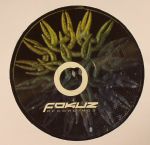 Cat: FOKUZ 078. Rel: 15 Jan 16
Drum And Bass
Facing Jinx - "Now You're Gone" (feat Alexsia Louca - Break remix) (5:22)

Soligen, Type2 & Vandera - "Lost Soul" (5:10)
Review: Just the words 'Break' and 'remix' alone should pique your interest regarding this 12" from the Fokuz crew. Break tackles the touching sounds of Taking Facing Jinx and Alexsia Louca collaboration "Now You're Gone" and adds his trademark drum punches and snarling-but-never-OTT bass. The results? Break has, once again, smashed it. Flip for a full scale soul shock out from label mainstays Soligen, Type2 and Vandera. Wonderful.
…

Read more
Cat: FOKUZ 074. Rel: 25 Aug 15
Drum And Bass
Soligen & Type 2 - "Can't Go" (Break remix) (6:17)

Impish - "So Sick" (5:23)
Review: The ever-dependable Fokuz welcome Break to the fray for a killer remix of last year's soul-burner from Soligen & Type 2. Adding a touch of grit and a brand new drumsuit, it's yet another killer strike for all concerned. Speaking of drums, Impish's "So Sick" is a proper jungle mission that's powered by serious live drumsounds. All splashy cymbals and one-inch-punch kicks, it's coated with a hornet bassline and pads so old school their Moschinos still have the tags on.
…

Read more
Items 1 to 2 of 2 on page 1 of 1