Items 1 to 2 of 2 on page 1 of 1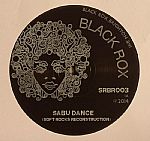 Cat: SRBR 003. Rel: 29 Sep 14
Disco/Nu-Disco
Sabu Dance

Every Breath I Take
Review: Black Rox is back with two more sneaky Soft Rocks specials that have somehow been liberated from locked CD wallets and released into the wild for general consumption. The A-side Sabu Dance combines Horns, Flutes & Percussion on this killer slice of midtempo funk from Africa via Berlin. This has been thoroughly road tested by Soft Rocks at their Kinfolk night & never fails to get a great response from the dancefloor. On the B-side is not the tantric one's ode to voyeurism but a rare as hens teeth slice of UK. reggae at its finest. Adjustments have been made sensitively and sounds have been chosen to carefully match those from the appropriate era. A perfect track for blissful summer evenings.
…

Read more
Played by:
Charles Maurice
,
Lexx
,
Local Zero
,
GK Machine [Invisible, Inc.]
,
MUSHROOMS PROJECT
,
Owain Kimber (Owain K)
,
Space:tricks
,
Manu•Archeo
,
PHANTOM ISLAND
,
Cedric Woo
,
Soft Rocks
,
Shawn Ryan (Universal Cave)
,
Paul Thornton (Dig Deep / Reboot)
,
Mystic Rock
,
Juno Recommends Disco
,
Nick The Record
,
Eddie C
,
Ray Mang
,
Mudd (Claremont 56)
,
Get Down Edits
,
COYOTE is it balearic?
,
VinylAddicted
,
Editor's Kutz
,
Blair French
…

Read more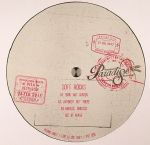 Cat: PTP 009. Rel: 07 Aug 17
Disco/Nu-Disco
Thru Wit Waitin (5:12)

Anybody Out There (6:31)

Mousso Mousso (4:58)

JP Wave (4:41)
Review: Rock out with your frock out, Passport To Paradise's soft lads are back with four more deviant edits; "Thur Wit Waitin" takes a dusty, slightly yachty AOR piece and gives it the necessary dancefloor swing it's always been crying for. "Anybody Out There" continues the big air guitar feels with gusto before flipping the trippy switch with the strange processed vocals midway. "Mousso Mousso" is a much more sultry affair with its light Afrofunk lace and air of French finesse while "JP Wave" finishes the affair with a shimmering dub twist. Bon voyage.
…

Read more
Items 1 to 2 of 2 on page 1 of 1