Artists
Items 1 to 2 of 2 on page 1 of 1
Cat: JAL 224V. Rel: 10 Oct 16
Funk
You Could've Been A Lady (4:34)

Glue Bag Flags (3:36)
Review: Jalapeno's northern funkers Smoove & Turrell gear up for their fourth studio album Crowd Posada with two superlative songs that at once demonstrate their range and innate soul ability. "Could Have Been A Lady" has a deep bluesy rock twang to its groove with just a toe or two in the pub while the curiously titled "Glue Bag Flags" takes us on a much sleazier trip with samples, a slinky bassline, a perfectly executed vocal Q&A and a zero-to-sixty tempo switch when you least expect it. Bring on the album.
…

Read more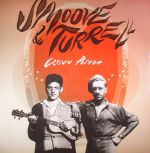 Cat: JAL 222V. Rel: 17 Oct 16
Funk
You Could've Been A Lady (4:53)

No Point In Trying (3:58)

Given It All (3:04)

50 Days Of Winter (3:56)

Now That Love Has Gone (3:13)

Glue Bag Flags (3:36)

Fight On (3:02)

Crown Posada (3:41)

Glass (3:12)

Slave To The Blues (3:28)

New Jerusalem (4:27)
Review: Geordie soul powerhouse Smoove (aka Jonathan Scott Watson) & (John) Turrell are back with their new album Crown Posada which proves that this Northern Funk duo's rise through the ranks of British soul has been nothing short of unstoppable. With the new single "You Could've Been A Lady", there is also some sweet synthpop inspired groove on "50 Days Of Winter" and some feel good R&B on the infectious "Fight On" amongst many other lovably groovy sounds on offer here. Turrell's wonderfully executed arrangements accompany Watson's smooth as silk voice and it's a great listen from start to finish.

…

Read more
Items 1 to 2 of 2 on page 1 of 1