Items 1 to 3 of 3 on page 1 of 1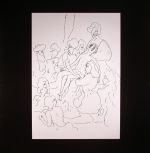 Cat: SMALLVILLE 48. Rel: 25 Jul 16
Deep House
Crystal Fandango (7:08)

Move (6:33)

Fever (5:56)
Review: Having recently contributed the delicious "Cricket Orchestra" to Smallville's impressive 10th anniversary collection, Smallville Ways, Julius Steinhoff and Just von Ahlefeld deliver their first EP for the Hamburg label in 12 months. They begin with the throbbing, low-slung bounce of "Crystal Fandango", where ghostly electronics and rubbery riffs wrap themselves around a stomping, bass-heavy groove. "Move" features similarly woozy chords and melody lines, but a more glassy-eyed, Chicago-influenced drum track, while "Fever" is percussively dense and acid influenced whilst retaining their usual hazy deep house feel. It's all impeccably produced, as usual, and each of the three tracks brings something a little different to the (turn) table.
…

Read more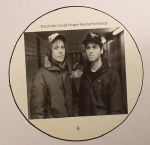 Cat: UQ 029R. Rel: 21 Dec 15
Deep House
Pandi Moon (5:27)

Kind Of Green (7:36)

The People (6:38)

Chasing The Sun (6:06)
Review: Julius Steinhoff and Just Von Ahlefeld have always been favourites of ours when it comes to deep house. Their Smallpeople project has been subject to much approval here at Juno HQ, and their records have consistently flown off our shelves over the past five years. Originally released on UQ back in 2010 as The People 12", this classy slab from Steinhoff and Von Ahlefeld is given a timely repress under the new title The Artist's Smallpeople Repping Hamburg! "Pandi Moon" provides the charm and soul through its neat melodic drifts, and "Kind Of Green" completes the A-side with deep and luscious chords for the small hours. Flip the wax and you'll find the harder, bumpier house pumper that is "The People", followed by our favourite of the lot, the banging and shuffled-out twister named "Chasing The Sun".
…

Read more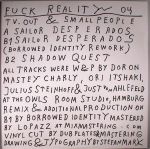 Cat: FUCKREALITY 004. Rel: 28 Nov 16
Deep House
Sailor Desperados (5:18)

Sailor Desperados (Borrowed Identity rework) (6:18)

Shadow Quest (5:35)
Review: The latest 12" from the Fuck Reality camp is an all-star affair, featuring collaborations between Tel Aviv twosome T.v.out, and Hamburg duo Smallpeople (AKA Julius Steinhoff and Just von Ahlfeld). With such talent on display, it's perhaps unsurprising that lead cut "Sailor Desperados" - an energy-packed romp full of undulating acid lines, fizzing hi-hats and relentless stabs - is particularly inspired. Quintessentials regular Borrowed Identity turns that cut into a deep acid shuffler, before the core quartet returns to round things off with the woozy, bass-heavy, late night deep house grooves of "Shadow Quest".
…

Read more
Items 1 to 3 of 3 on page 1 of 1