Items 1 to 1 of 1 on page 1 of 1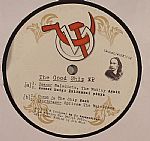 Cat: (KUNST/WORK) 002. Rel: 20 Aug 13
Minimal/Tech House
Beaner - "Maledicta, The Mutiny"

Khrom Ju - "The Ship"

Skirtchaser - "Splice The Machine"
Review: After making their presence felt with the lavish packaging of their first release, the La Mission crew joins forces again with all the characters present for another well-presented journey through leftfield house and ambient compositions. Beaner's "Maledicta, The Mutiny" is the most direct of the offerings, working a mournful cello line and forlorn piano chords over a crisp tech-house rhythm while alien vocal samples inject the weird factor into the track. Krohm Ju meanwhile ditches beats in favour of a bass-laden experimental piece rich in compositional clout, as layers of arpeggios and lingering chords work to create a stirring piece. Skirtchaser then rounds the proceedings off with a low slung deep house affair with a scuffed beat and evocative found sound that feels like a brisk Sunday afternoon in autumn rolled into gently pulsing rhythm.
…

Read more
Items 1 to 1 of 1 on page 1 of 1