Simple Symmetry
Items 1 to 3 of 3 on page 1 of 1
Cat: HRDF 03. Rel: 11 Jun 18
Deep House
Cornelius Doctor & Tushen Rai - "Place Du Pont"

Ko Shin Moon & Simple Symmetry - "Halay" (Cornelius Doctor remix)

JAKAM - "Tribes"

Shadi Khries - "Semsemeh"

Timothy Clerkin - "Akama"
Review: Given that Hard Fist's first two releases hit home hard, hopes are naturally high for the imprint's third 12". Whereas releases one and two were solo EPs, Princes of Abzu is something of an all-star affair. Label founders Cornelius Doctor and Tushen Rai join forces for the excellent, Acid Arab-esque opener "Place Du Pont", while Jakam's superb "Tribes" brilliantly joins the dots between Afro-house, Middle Eastern exotica and, most thrillingly of all, spiritual jazz. Elsewhere, Shadi Khries' "Semsemeh" is a dark and atmospheric chunk of psychedelic acid-jack and Timothy Clerkin's fuzzy and aggressive "Akama" is a mid-altering analogue chugger.
…

Read more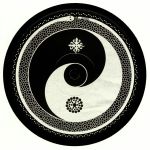 Cat: CULTED 001. Rel: 12 Mar 18
Disco/Nu-Disco
Manfredas - "Mani From The Block" (7:57)

Siaubas - "Hare Hare" (6:24)

Simple Symmetry - "Yalla" (6:42)
Review: Those fine folks behind the otherworldly Multi-Culti imprint have decided to launch a re-edit series, naturally focusing on reworks of weird and wonderful, off-kilter gems from around the world. This first serving of Cult Edits naturally contains some seriously tasty and exotic fare, most notably the parping, horn-heavy shuffle of Manfredas's "Mani From The Block", a stretched-out interpretation of what appears to be a Turkish style funk weird-out. Flip to the B-side for two more heavyweight slabs of wild goodness: the low-slung, dub-fired post-punk insanity of Siaubas's "Hare Hare" rework, and the throbbing, chant-along drug-chug of Simple Symmetry's brilliant "Yalla" interpretation.
…

Read more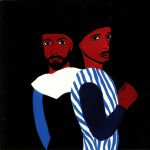 Cat: LBF 004. Rel: 26 Oct 15
Deep House
Mimino (main mix) (7:25)

Mimino (instrumental mix) (7:24)

Simsim (7:32)
Review: Disco duo Simple Symmetry is made up of brothers Sasha and Sergey Lipski, and the pair have obviously maintained their brotherly bond into the studio and out onto the dancefloor. It has been two years since their first EP on Glenview Records, and they've been minimal in their output, but more than dedicated to releasing quality Saturday night music. They land the Low Budget Family imprint with "Mimino", a disco-house tune with a sort of Irish dance thing going on, a sound that's instantly hummable and kind of addictive! There's a more laid back instrumental mix featuring a heavier dosage of synths, followed by the Arabian sounding "Simsim", another odd yet enticing disco cut with interesting wordly flavours.
…

Read more
Items 1 to 3 of 3 on page 1 of 1