Items 1 to 2 of 2 on page 1 of 1
Cat: BRZ 45071.
International
Silvio Cesar - "Na Nasci Pra Jogador"

Bebeto - "Princesa Negra De Angola"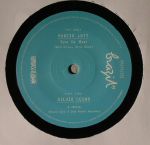 Cat: BRZ 45033. Rel: 04 Dec 15
International
Marcio Lott - "Tema De Baby" (2:46)

Silvio Cesar - "A Festa" (3:32)
Review: Mr Bongo's deeply dug Brazil 45s series continues with serious merit: Originally released in 1974 on Tapecar, Marcio Lott's lavish, laidback sunset samba "Tema De Baby" suffered a limited run before being anointed into the rarest of Brazilian funk categories. This is its first release in over 40 years. It's backed by the heavier, jazz-focused "A Festa" by Silvio Cesar. Coated with a cacophony of party sounds and faraway harmonies, it's one of those records that leaves you feeling like you're in the centre of the party wherever and whenever you hear it.
…

Read more
Items 1 to 2 of 2 on page 1 of 1