Items 1 to 2 of 2 on page 1 of 1
Cat: IFS 010.
Deep Dubstep
Awaken

Instinct

Mordecai

Sekhmet (feat Tailored Sound)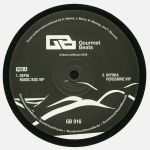 Sepia - "Music Box" (VIP) (4:34)

Inyoka - "Peregrine" (VIP) (5:02)

Oxossi - "Malevolent" (VIP) (3:44)

Eshone - "Corked" (VIP) (5:31)
Review: The latest release on Baltimore bass-head Joe Nice's GourmetBeats label is a rather special one, as it features a range of exclusive "VIP" versions from some of the imprint's leading lights. Sepia steps up first with "Music Box (VIP)", a suitably deep and rolling affair that pits crystalline melodies against one of the weightiest sub-bass lines you're ever likely to hear. Inyoka steps up the percussive pressure on the creepier but no less weighty "Peregrine (VIP)", before Oxossi reaches for the mind-altering, industrial strength wobble bass on head-mangling stepper "Malevolent (VIP)". If that lot isn't enough to make you reach for your wallet, check the pulsating late night sweatiness of Eshone's pulverizing "Corked (VIP)".
…

Read more
Items 1 to 2 of 2 on page 1 of 1