Items 1 to 1 of 1 on page 1 of 1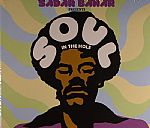 Cat: BBE 165CCD. Rel: 07 Nov 12
Funk
Johnny Harris - "Odyssey" (part 1)

Calender - "Comin' On Strong"

Poetiquette - "Soul Melody" (Yam Who? remix)

Maxayn - "Bail Out"

Seawind - "Free"

Moses - "Striving For Tomorrow"

Puzzle People - "French Fried Boogie"

Sparkles - "Trying To Get Over"

Carl Grubbs - "Scorcher" (instrumental)

Chuck Higgins & The Wild Bunch - "Funkyfield"

Carlos Garnett - "Mystery Of Ages"

Sonny Stitt - "Tornado" (feat Eddie Russ)

Frederic Mercier - "Spirit"
Review: Few can match BBE when it comes to the funk and disco compilation stakes - the label's been issuing killer compendiums curated by some of the finest and most eminently knowledgeable DJs and diggers since the mid 90s. Soul In The Hole sees them hand the controls to Sadar Bahar, Chicago based DJ described by BBE as the city's "best kept secret". Bahar began DJing in the early 80s, a historically important time for music in Chicago and states he was driven by an "unquenchable desire to create one of the best collections ever". This 12 track compilation demonstrates Bahar has achieved that with aplomb, traversing through a colourful range of funk, soul, disco and boogie, with Frederic Mercier's "Spirit" a real gem.


…

Read more
Items 1 to 1 of 1 on page 1 of 1