Items 1 to 3 of 3 on page 1 of 1
Cat: VYG 11. Rel: 25 Apr 18
Deep House
Weakest Link (5:57)

Weakest Link (D Tiffany remix) (5:22)

Seminyak Dream (5:38)

Lilli's Dream (5:43)
Review: Melbournian producer Katie Campbell has turned a few heads since donning the Roza Terenzi alias last year. She's yet to put out a duff release and this latest excursion - her first for Aussie label Voyage - is every bit as alluring as its predecessors. Check, for example, the rubbery deep house funk of opener "Weakest Link", where far-sighted bleep melodies and alien synths dance gently above an elastic groove, or the far-out late night hustle of analogue-rich workout "Seminyak Dream", which sounds like the Mood Hut crew making 1990 bleep techno. The EP also boasts a luscious slab of dusty deepness (the wonderfully spacey "Lill's Dream") and a bustling, sub-bass heavy tweak of "Weakest Link" by regular Campbell collaborator D. Tiffany.
…

Read more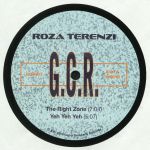 Cat: GCR 007. Rel: 11 Dec 17
Deep House
The Right Zone (7:05)

Yeh Yeh Yeh (5:11)

Higher Place (5:27)

Yeh, Higher Places (Jayda G Deep In Your Soul mix) (6:40)
World Off

Half Moon Bay

Strobe Fountain

G Step
Review: Roza Terenzi (aka Katie Campbell) has made a blockbuster start to her recording career, winning praise for fine solo outings on Good Company Records and Kalahari Oyster Cult. This time out she's in collaborative mode, serving up a quartet of cuts alongside Canadian producer Sophie "D. Tiffany" Sweetland (this time under the lesser-spotted DJ Zozi alias). The two women set their stall out via the rolling, breakbeat-driven cheeriness of "World Off", where darting organ riffs and swirling dream house chords rise above an addictive backing track, before playing around with bubbly acid lines on the Motor City techno inspired brilliance of "Half Moon Bay". Turn to the flipside for more hardcore-era, breakbeat house haziness ("Strobe Fountain") and the mid-'90s deep D&B tribute "G Step".
…

Read more
Items 1 to 3 of 3 on page 1 of 1