Items 1 to 1 of 1 on page 1 of 1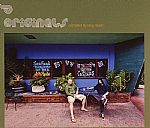 Cat: C56CD 015. Rel: 13 Jun 13
Disco/Nu-Disco
SpaceTime Continuum - "Transmitter"

King Errisson - "Space Queen"

Futura 2000 - "The Escapades Dub"

Donna McGhee - "You Should Have Told Me" (disco mix)

Unfinished Business - "Out Of My Hands (Love's Taken Over)"

Forrrce - "Keep On Dancing/Listen To The Rhythn Ban"

Negativland - "The Perfect Cut"

FM Inc - "Dub Me Anytime"

Aardvark - "The Return Of Rasputin"

Big Boys - "Common Beat"

Verticle Lines - "Beach Boy" (instrumental)

Electro-Harmonix Work Band - "I'm Not A Synthesizer"
Review: As Claremont 56's superb Originals series of crate-digging compilations tiptoes towards the final curtain (a celebratory vinyl box-set is due later in the year), label boss Paul Murphy hands the reigns over towards longtime pals DJ Spun and Ben Cook, the men behind San Fran/New York imprint Rong Music. If you've heard either DJ, you'd expect their selection to jump between a myriad of dubby, stargazing styles, and that's exactly what they deliver. From the intergalactic ambience of Space Time Continuum's "Transmitter", to the low-slung dub disco of Futura 2000, via the Balearic house shuffle of FM Inc and spaced-out punk-funk of Big Boys, it's a treasure trove of thrillingly atmospheric obscurities. Recommended... as usual.
…

Read more
Played by:
Andrew Pirie (Melting Pot)
,
Mukatsuku Records Chart
,
JimmyTheTwin
,
Felix Dickinson
,
Tornado Wallace
,
Baggy [Emotional Pop]
,
MUSHROOMS PROJECT
,
Sito / / Mischio Dischi Disco
,
Justin Van Der Volgen
,
Manu•Archeo
,
Wes [Cutloose :: Manchester]
,
Scott K. [BOXmusic]
,
Dj soFa
,
Noise In My Head
,
Eddie C
,
Kwinzola
,
Aihki
,
I Love Disco!
,
Steve Lee
,
Mudd (Claremont 56)
,
Woody Wood Jr.
,
Simon Ozbizton/EYESHRWD
…

Read more
Items 1 to 1 of 1 on page 1 of 1