Items 1 to 2 of 2 on page 1 of 1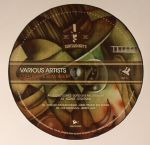 Cat: GENTSLTD 002. Rel: 23 Feb 16
Deep House
Doug Gomez - "Lord Give My Strength" (8:22)

Kojam - "Situations" (5:32)

Roman Muhlschlegel - "Dein Freund Die Bohne" (6:43)

The Verticals - "Jersey Jam" (6:11)
Review: Gents & Dandy's started out as a digital-only label back in 2014, but they've started releasing their sounds up on vinyl as of late. This four-track collaboration kicks off with Doug Gomez and the wavey deep house tones of "Lord Give My Strength", an excellent little house gem in a Chicago kinda vibe, followed by the even deeper sways and warm swarms of sonics on Kojam's "Situations". Roman Muhlschlegel sticks to the deep end of the spectrum on "Dein Freund Die Bohne", a placid yet uplifting bundle of house beats, and The Verticals ties things off with the more classic, piano-led arrangements of the warm and delicious "Jersey Jam".
…

Read more
$8.77
SAVE 25%
in stock
$6.58
Cat: SOULES 001. Rel: 26 Nov 14
Deep House
Suaave - "Luminary"

Suaave - "Glass"

Roman Muhlschlegel - "Belladonna"

Roman Muhlschlegel - "Cool Down World"
Items 1 to 2 of 2 on page 1 of 1