Items 1 to 3 of 3 on page 1 of 1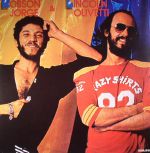 Cat: 332271. Rel: 22 Jun 16
International
Jorgeia Corisco (3:56)

No Bom Sentido (3:28)

Aleluia (3:51)

Raton (0:52)

Pret-A-Porter (3:32)

Squash (3:59)

Eva (5:43)

Fa Sustenido (3:02)

Ze Piolho (0:43)

Baila Comigo E Festa Braba (1:12)

Ginga (5:12)

Alegrias (3:09)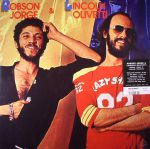 Cat: MRBLP 148. Rel: 31 Jul 17
International
Jorgeia Corisco (3:50)

No Bom Sentido (3:29)

Aleluia (3:51)

Raton (0:53)

Pret-A-Porter (3:35)

Squash (3:58)

Eva (5:39)

Fa Sustenido (2:57)

Ze Piolho (0:43)

Baila Comigo E Festa Braba (3:32)

Ginga (2:55)

Alegrias (3:10)
Review: Insane boogie fire from Rio circa 82; both Robson Jorge and Lincoln Olivetti were already decorated before they joined forces, but this one took both of their reputations and amplified them beyond expectation. Their one and only album, it's loaded with soul and funk from every corner of Brazil's sexy city and brought together with beautiful attention to detail; the gradual vocal breakdowns, rude synths and lavish instrumental sections, key cuts such as the Wonder-level "Aleluia", the jazz slides and glides of "Pret-A-Porter" and the sexy 80s electro boogie "Squash" will still completely flip any party 35 years later. Stunning.
…

Read more
Played by:
Charles Maurice
,
Mukatsuku Records Chart
,
JimmyTheTwin
,
Phillie P (Ice City Rec)
,
Manu•Archeo
,
Shawn Ryan (Universal Cave)
,
Yoshi Okino (Kyoto Jazz Massive)
,
Frank Booker
,
Afro Beat Foundation
,
Red Greg
,
Admin
,
Charlie bucket
,
Juno Recommends International
,
Cultures Of Soul US
…

Read more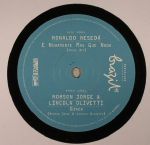 Cat: BRZ45 065. Rel: 14 Aug 17
International
Ronaldo Reseda - "E Novamente Mas Que Nada" (5:19)

Robson Jorge & Lincoln Olivetti - "Ginga" (2:57)
Review: The 65th volume in Mr Bongo's admirable Brazil 45s series shines a light on Rio De Janeiro's turn-of-the-'80s boogie scene. On the A-side you'll find "E Novamente Mas Que Nada" by Ronaldo Resado, a five-minute chunk of samba-laced boogie sunshine that was originally featured on the artist's eponymous 1979 debut album. While wonderful, it's slightly overshadowed by flipside cut "Ginga", one of the highlights from Robson Jorge and Lincoln Olivetti's sought-after 1982 full-length (which, incidentally, was recently reissued by Mr Bongo and is well worth checking). Joining the dots between synth-heavy electrofunk, horn-toting disco-funk and languid jazz-funk, the instrumental track is arguably one of the best Brazilian boogie records ever made. Don't sleep.
…

Read more
Items 1 to 3 of 3 on page 1 of 1