Items 1 to 2 of 2 on page 1 of 1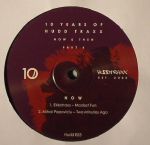 Cat: HUDD 053. Rel: 02 Nov 15
Deep House
Ekkohaus - "Modest Fun"

Mihai Popoviciu - "Two Minutes Ago"

Rio Padice - "Dirty Belvedere"

JT Donaldson - "Just Bounce"
Review: The 4th and final part of Hudd Traxx 10th Anniversary series comes from Ekkohaus, Mihai Popoviciu, Rio Padice & JT Donaldson. Previous parts featured tracks from the likes of Chez Damier, Agnes, Iron Curtis & Luna City Express. Part 4 keeps the high standards that Hudd have set and Ekkohaus steps up to open proceedings. 'Modest Fun' is a peak time house cut with a big sub bass, shuffling hats and lush keys to boot. Mihai Popoviciu's 'Two Minutes Ago' plays a hypnotic Xylophone hook mixed with the dreamy vocal chant of 'Don't stop, let's go' to round off the 'Now' side in a classy fashion. Rio Padice & JT Donaldson close out the EP on the 'Then' side being 2 of the label's biggest sellers to date. Hudd Traxx have been swamped with requests for a repress of Rio Padice's 'Dirty Belvedere' so it was a no brainer for this to make the cut. JT Donaldson's 'Just Bounce' was played by any DJ worth their salt in 2009, and it's clear to see why, as once you've listened once, it goes on repeat a good few times. A great way to close out this 4 Part 10th Anniversary series.
…

Read more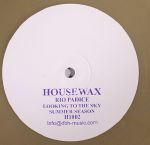 Cat: H 1002. Rel: 25 May 15
Deep House
Looking To The Sky (5:41)

Summer Season (4:37)
Review: Last seen on Dekmantel as part of Mephisto Frequency Oscillator alongside Early Sounds Collective pal Massimo Di Lena, Rio Padice pitches up on Housewax for the Looking To The Sky 12". The two tracks here explore Padice's deeper side, but it all still feels vintage in origin, with "Looking To The Sky", in particularly, coming blessed with the sort of dreamy warmth and undulating low-end shuffle that have long been hallmarks of Larry Heard productions. "Summer Season" is a little brighter and breezier, with twinkling electronics, cheery melodies and drawn-out chords riding a synth bass-heavy late '80s deep house groove.
…

Read more
Items 1 to 2 of 2 on page 1 of 1