Artists
Items 1 to 1 of 1 on page 1 of 1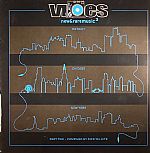 Cat: RHM 010.2. Rel: 01 Sep 14
Deep House
Moodymann - "Momma"

Sean Tate - "A Matter Of Honor" (Wilhite remix)

Los Hermanos - "It's The Future"

DJ Stingray - "Temporary Bond"

TJ Dumas & Raybone Jones - "Runnin 2 U"

Rick & Calvin - "Memories Analia"

Orlando Voorn - "The Recipe"

K-Alexi - "Head Banger"
Review: Vibes New & Rare Music 2 reaches it's conclusion here as Rush Hour drop the second and final double vinyl helping of the Rick Wilhite curated compilation with a suitably high profile cast of contributors involved. If you checked Part One which dropped earlier this year, you'll know Wilhite has expanded the remit to include producers from Chicago and New York - and if you didn't check it what's wrong with you! Any compilation that starts with an exclusive cut from Moodymann is gonna be good, and the dusty, disjointed "Momma" sets the tone quality wise for what follows. The Godson himself delivers a thunderous, stripped back take on "A Matter of Honour" by Sean Tate and this dukes it out with the apocalyptic electro of DJ Stingray and the rugged beatdown of Orlando Voorn as our favourites from this great collection.
…

Read more
Played by:
Domenic Cappello
,
Hernan Cronner
,
TiTo (Troubled Kids Records)
,
Tripeo
,
Carlos Nilmmns
,
Kisk
,
Chuck Daniels
,
ISOUL8 (Volcov)
,
DJ Bone
,
Orlando Voorn
,
Leandre Dj
,
Juno Recommends Deep House
,
Scott Ferguson (Ferrispark Records)
,
Cottam
,
Adryiano
,
Don Crisp
,
Reggie Dokes
,
Santonio Echols D Records
…

Read more
Items 1 to 1 of 1 on page 1 of 1