Items 1 to 3 of 3 on page 1 of 1
Cat: ENDLESSFLIGHT 27. Rel: 29 Oct 10
Disco/Nu-Disco
Monkey Temple

Discorcism
Review: Richard Sen is a long term fixture of the UK electronic scene, from the post big beat block party as Bronx Dogs to a rich seam of releases and remixes as part of Padded Cell on the seemingly defunct DC Recordings. In more recent times, Sen has delivered some sparkling twelve inches in conjunction with iconic graff artist Cazbee on the Mixed Blood Cuts label. After providing the most energetic chapter in Endless Flight's recent I'm Starting To Feel OK Vol.4 mix CD in "Discorcism", Sen makes his twelve inch debut for the Japanese imprint. The aforementioned track is hidden away on the B Side to showcase the brilliance of its counterpart; "Monkey Temple" is the sort of instrumental electric disco boogie that Sen excels at, with an increasingly fractured acid riff the one constant amidst a vast array of cosmic analogue flourishes.

…

Read more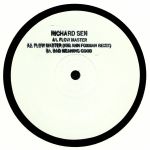 Cat: FH 009. Rel: 09 Mar 18
Deep House
Flow Master (6:13)

Flow Master (Kim Ann Foxman remix) (6:19)

Bad Meaning Good (7:55)
Review: It's been two years since Richard Sen last treated us to some new music, so this surprise EP - his first for Kim-Ann Foxman's Firehouse label - is well overdue. In its original form, "Flow Master" sits somewhere between new wave-inspired Italo-disco, early Chicago house and the chant-along EBM funk of Nitzer Ebb. It's blessed with a particularly memorable sequenced bassline that naturally comes to the fore at key moments in the track. Foxman delivers a superb, acid-fired remix that's noticeably darker, wilder and closer in tone to '88 style EBM, before Sen peppers a cowbell-heavy drum machine groove with stabbing sub-bass and ice cream van chimes (really) on similarly meaty flipside "Bad Meaning Good".
…

Read more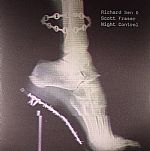 Cat: EES 003. Rel: 25 Nov 13
Disco/Nu-Disco
Richard Sen - "Night Navigator" (Scott Fraser remix)

Scott Fraser - "Ask Your Control" (Richard Sen remix)
Review: Friends for many years, Richard Sen and Scott Fraser come together with a dose of mutual admiration and back slapping by remixing each other on this 2 track EP. However, what makes this collaboration different is there are no original versions appearing, just these remixes. By completing an unfinished track of each the other, the pair have taken the respective unarranged music and gone back to their East London studios to, in essence, finish the other's songs in the form a "remix". Known for a myriad of deep electronic dubs in the last few years, Scott provides plenty of surprises with his remix of Richard's Night Navigator. A driving 10+ minutes 'piano-house' opus, the late 80s Italian / Balearic vibrations run straight through his interpretation of that classic Mediterranean sound. Not for long though, as firmly dragging things straight back to the dark and wet streets of Hackney, Richard takes Scott's Ask For Control and creates a tough, percussive, deep dub remix that would propel any basement dance floor through the early hours.
…

Read more
Items 1 to 3 of 3 on page 1 of 1