Items 1 to 2 of 2 on page 1 of 1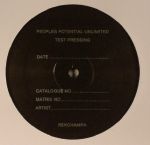 Cat: PPU 071TP. Rel: 11 Feb 16
Deep House
Track 1 (4:04)

Track 2 (5:14)

Track 3 (5:57)

Track 4 (6:11)

Track 5 (4:38)

Track 6 (4:18)
Review: It is safe to say PPU boss Andrew Morgan is a fan of Atlanta-based producer Rekchampa, with this limited test pressing edition of his Dream Sequence album arriving the same week as the killer Fried Chicken Skin 12". After a few days rotation on the Juno office stereo, we're the latest converts to the Rekchampa cause! First surfacing on our radar via a NDATL 12" in late 2014, Stefan Ringer has been popping up in a few interesting places ever since; sharing sides with Eliphino on A Love Below 12", appearing under the Black Suede name on the CGI label. This album finds PPU compiling Rekchampa cuts that first appeared on a Harsh Riddims cassette in 2014, complemented by a few bonus cuts from the Ringer studio. These six tracks brandish a style of vocal, soulful house comparable to Moodymann, Peven Everett and Seven Davis Jr but Rekchampa definitely has his own rough-edged vibe going on.
…

Read more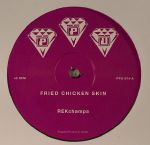 Cat: PPU 074. Rel: 11 Feb 16
Deep House
REKchampa - "Fried Chicken Skin" (5:46)

REKchampa & Personal Trainer - "Ride" (4:42)
Review: Andrew Morgan's Peoples Potential Unlimited label may well have been founded to document the lost and forgotten funk, disco and boogie that peppered the DIY and private press labels of 1980s USA, but their contemporary releases are just as good. See 12"s from the likes of Legowelt, Beautiful Swimmers and Pender Street Steppers for evidence. Fried Chicken Skin adds to this small but deadly canon of contemporary PPU releases, presenting one of two records on the label from Stefan "Rekchampa" Ringer, a Stockbridge, Atlanta-based producer who got his break in late 2014 thanks to Kai Alce's NDATL label. "Fried Chicken Skin" is a bumping, rough US house delight replete with ad-libbing vocals from Ringer himself, whilst "Ride" sees him collaborate with Personal Trainer for a more reduced, deeper cut that will appeal to Sound Signature fans.
…

Read more
Played by:
Jonna (City Fly / Shadeleaf Music)
,
Simba (Shadeleaf Music)
,
Secret Reels
,
SEELIE
,
Jeremy Underground
,
Thatmanmonkz (Shadeleaf Music)
,
Paul Thornton (Dig Deep / Reboot)
,
OK Jones / Love Glove
,
Monsieur Cedric (Serie Limitee)
,
Juno Recommends Deep House
,
Cottam
,
Eric Ericksson
,
Jimini
,
Simon Ozbizton/EYESHRWD
,
Djs: Most Charted - Deep House
,
Anaxander
,
Ketsba (Rough House Rosie)
,
Secretsundaze
…

Read more
Items 1 to 2 of 2 on page 1 of 1