Items 1 to 1 of 1 on page 1 of 1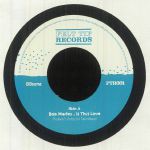 Cat: FTR 001. Rel: 05 Sep 14
Broken Beat/Nu Jazz
Bob Marley - "Is This Love" (Redmo acoustic takedown)

Redmo - "Sadi Soul"
Review: Sam Redmore has quietly been doing his thing in hometown Birmingham for some time, crafting soul-soaked re-edits, bootleg remixes and mash-ups that tend towards the tasteful end of the spectrum. Having previously built up a solid fan base via his own Bandcamp page, he's finally made it onto wax. The two cuts featured here are amongst his best. The A-side revision of Bob Marley's "Is This Love" is particularly potent. It strips out the drums, thus emphasizing the genuine sweetness of Marley's original. Flip for "Sadi Soul", an upbeat, headnodding rework of a vibraphone and double bass-laced jazz-funk jam with added hip-hop swing.
…

Read more
Played by:
Local Zero
,
Craig Charles Funk And Soul
,
Boy Oliver
,
Discomendments
,
Count Skylarkin
,
Alex Zuiev
,
Paul Thornton (Dig Deep / Reboot)
,
DJ Psycut
,
Hubbz
,
Juno Recommends Brokenbeat/Nu Jazz
,
Phil Horneman (Wicked Jazz Sounds)
,
Marc Hype
,
Martin Brew
,
Super Mango Hi-Fi
,
I Love 45's!
,
Reggae Mash Ups Tha Dance !
,
NuNorthern Soul
…

Read more
Items 1 to 1 of 1 on page 1 of 1