Items 1 to 2 of 2 on page 1 of 1
Cat: LD0 41. Rel: 25 Apr 18
Disco/Nu-Disco
Will Buck - "Soul Sides" (6:22)

Will Buck & Prtmnto - "Ilif 1982" (7:04)

Will Buck & Prtmnto - "Do It To Me" (6:13)

Will Buck & Prtmnto - "Do It To Me" (Parallax remix) (7:31)
Review: Ever since Will Buckley and PRTMNTO debuted on last year's Lovetrax EP on Whiskey Disco Small Batch, we've been eagerly anticipating the duo's first collaborative EP. Title track "Soul Sides" - one of three cuts mixed by label boss Pontchartrain - is a breezy and positive affair, with sultry disco strings and attractive, delay-laden riffs slowly rising above a loopy, deep disco-house groove. "Liif 1982" is a more obviously energetic affair blessed with rubbery slap bass and some seriously seductive synthesizers, while "Do It To Me" is a jazzier and jaunty affair that subtly doffs a cap to both sleazy disco and jazz-funk. Parallax brilliantly strips back the latter track, adding sweet jazz guitars on a superbly summery and laidback interpretation.
…

Read more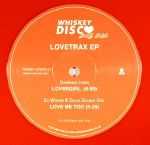 Cat: WDSB 03. Rel: 01 Mar 17
Disco/Nu-Disco
Sunshine Jones - "Lovergirl" (8:02)

Ed Wizard & Disco Double Dee - "Love Me Too" (5:28)

Will Buck & PRTMNTO - "I Need Your Love" (6:40)

Vagabundo Club Social - "Sonico Amor" (7:41)
Review: Perhaps we should think of Whiskey Disco's Small Batch series as their attempt at "artisan disco". Certainly, the re-edits on show should have a few hipsters - and plenty of disco DJs - stroking their hirsute chins in appreciation. Dubtribe Soundsystem's Sunshine Jones kicks things off with the mid-80s synth-pop-goes-acid-house brilliance of "Lovergirl", while regular collaborators Ed Wizard & Disco Double Dee doff a cap to Sly & Robbie and Larry Levan on the dub disco vibes of "Love Me Too". Those after some high tempo jazz-funk-meets-disco-house thrills should check Will Buck and PRTMNTO's "I Need Your Love". As for Vagabundo Club Social's "Sonico Armor", it's a hazy, dub-flecked Balearic disco delight.
…

Read more
Items 1 to 2 of 2 on page 1 of 1