Artists
Items 1 to 3 of 3 on page 1 of 1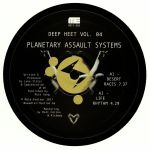 Cat: MOTE 050. Rel: 16 Oct 17
Techno
Desert Races (7:31)

Life Rhythm (4:32)

Random Kingdom (6:06)

Lazer Organical (6:11)
Review: UK don Luke Slater returns with the fourth instalment of Deep Heet. The last edition released in 2012 on his esteemed Mote Evolver imprint is recognised by those that know as some of the most reliable techno tools in recent years: who can forget the sinister hypnotism of "Flat Tire": what a classic! You can bet there's yet more austere and ergonomic tracks for serious DJ use on offer here. Starting off with the driving and cyclical grunt of "Desert Races", then the tunnelling and trance inducing bell melody of "Life Rhythm" representing the A side. On the flip, the full throttle intergalactic charge of Random Kingdom and the dystopian minimalism of "Lazer Organical" which would make even Mike Parker stand up and notice! Slater is still without doubt one of the most singular talents in techno, respect!
…

Read more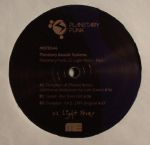 Cat: MOTE 046. Rel: 30 May 16
Techno
Dungeon (O Phase remix) (8:12)

The Gated (Ben Sims edit) (6:26)

Dungeon (PAS 1997 original) (6:24)
Review: More than any other UK techno producer, Luke Slater has remained at the cutting edge. This is partly due to his ability to make forward-thinking music, but as this new series demonstrates, he also possesses an uncanny knack for pairing off with other inspired artists. "Gated" is vintage PAS material from the 90s, its distorted rhythm lent a housey bias here thanks to Ben Sims' superb remix. It's hard to believe that "Dungeon", available here in its original format, dates back to 1997, as its bleepy, tunneling groove and its 'swarm of bee' hums make for exactly the kind of hypnotic sounds that many modern producers try - and fail - to emulate. Completing this excellent release is a dry, tribal version of "Dunegon" by O [Phase] from Token.
…

Read more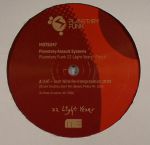 Cat: MOTE 047. Rel: 11 Jul 16
Techno
Kat (Josh Wink reinterpretation) (10:15)

Kat (8:49)
Review: Part one of this Funk 22 Light Years Series Luke Slater is turning out at the moment on his Mote-Evolver label took in remixes from Token's Phase and Ben Sims with a classic '97 PAS remix of Dungeon making the cut too. For part two, Slater looks towards Ovum boss Josh Wink who turns in a progressive builder that's slightly more melodic and trippier than the original "Kat". It's tech house shake is undeniable! Meanwhile, "Kat" itself is tribal, uptempo and proper '90s looped techno. It's an EP of two halves - so which one are you: tech or techno?
…

Read more
Items 1 to 3 of 3 on page 1 of 1