Artists
Items 1 to 2 of 2 on page 1 of 1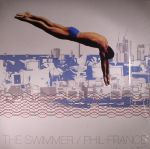 Cat: GONDLP 016. Rel: 06 Mar 17
Balearic/Downtempo
The Swimmer (4:06)

Transition (5:48)

Kubrick (4:00)

Joy Of Brass (3:45)

London Park Hotel (3:23)

December (3:38)

Animator (3:18)
Review: A collaborator alongside Jason Swinscoe in the Cinematic Orchestra, Phil France is responsible for some of the most beautiful music created in recent times. Co-writing and producing on the albums Everyday, Man With a Movie Camera, Ma Fleur and the triple award winning soundtrack for The Crimson Wing nature documentary, France's skills have always extended beyond his basslines. Relocating from London to West Yorkshire, France is said to have taught himself how to swim in a local spa built in the former home of Charles Waterton, a 19th-century naturalist and explorer. The recording of the strings and drums was done in Amsterdam and Manchester. Originally released in 2013, the album may not have received all the recognition it deserved then; but this reissue on Gondwana should help spread the word of such a wonderful and evocative album.
…

Read more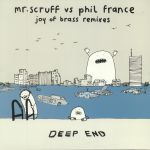 Cat: GOND 019. Rel: 02 Oct 17
Broken Beat/Nu Jazz
Joy Of Brass (Mr Scruff remix) (8:11)

Joy Of Brass (Mr Scruff Bumpy dub) (5:26)
Review: Following the re-release of his 2013 album The Swimmer, Cinematic Orchestra's Phil France provides the delicate parts of his modern classic piano composition "Joy Of Brass" to card-carrying Gondwana fan Mr Scruff and gets two exceptional remixes in return: the main remix shuffles with a soft, slow lolloping jack and some beautiful yearning chords soaring over the top in an almost Nordic cosmic style. His Bumpy Dub, meanwhile, taps into the bruk renaissance with a smoky halftime break and a bassline that borders on KOAN territory. In a nutshell? Scruffy's turned in two blinders here.
…

Read more
Items 1 to 2 of 2 on page 1 of 1