Peven Everett
Items 1 to 2 of 2 on page 1 of 1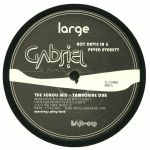 Cat: LARV 019. Rel: 16 Apr 18
Deep House
Gabriel (The Scroll mix) (7:00)

Gabriel (tamborine dub) (7:11)

Gabriel (live garage) (7:25)

Words To Give By (7:23)
Review: It would be fair to say that Roy Davis Jr and Peven Everett's "Gabriel" (originally written "Gabrielle" on early pressings) has become a timeless dance music classic - a track that both soulful house and UK garage DJs reach for in times of trouble. Should it not be in your collection already (and it should be), Large Music has decided to re-master and re-press the original 1996 12". It does, of course, contain the now ubiquitous "Live Garage" version - the groovy two-step, trumpet-laden mix that became popular with early UK garage DJs - plus a trio of lesser-known remixes. The Tambourine Dub, in particular, is something of a tough, warehouse-friendly deep house treat.
…

Read more
Played by:
Aaron Dae (Razor-N-Tape)
,
Rudy's Midnight Machine
,
STEREO 12"
,
Lay-Far
,
Mark Graham (Contrast-Wax)
,
Juno Recommends Deep House
,
Juno Classics
,
JKriv (Razor-N-Tape)
,
Vorres (Vrrs)
,
SIMON OZBIZTON
,
Nasty Boy
,
Steve Froggatt (Pocket Money)
,
Peletronic
,
MIL (Music is Love Records)
,
25 Places
,
80's Child
,
Borrowed Identity
…

Read more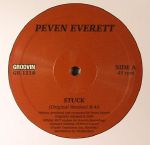 Cat: GR 1218. Rel: 26 Jun 17
Deep House
Stuck (8:42)

Stuck (extended edit) (11:48)
Review: Its first reissue since this absolute stone cold soulful house classic was released in 2006, the return of Peven's "Stuck" to wax is long, long, long overdue! We all know that lo-fi funk backing groove, we all know the infectious, party-hollering way those hi-hats kick in bars later than they really should and we all know Peven's midas vocal tones. Genuine magic on 12 inches; we've been waiting for this one for a long time.
…

Read more
Items 1 to 2 of 2 on page 1 of 1