Items 1 to 2 of 2 on page 1 of 1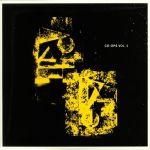 Co Ops Vol 2
(heavyweight double 12" in screen-printed sleeve limited to 200 copies)
Cat: COUNTER 010. Rel: 07 Mar 18
Techno
Boddika - "Broken Wave" (6:35)

Yogg - "Close Enough" (7:25)

Patrik Skoog - "Mind Control" (5:10)

Distant Echoes - "Under The Influence" (7:30)

BNJMN - "Red Tide" (6:41)

Inland - "Fluxus" (7:15)

Cassegrain & Tin Man - "Opal Stare" (5:37)

Pharaoh & Yogg - "The Great Attractor" (8:26)
Review: Ed Davenport's Counterchange imprint is back with a label compilation that demonstrates a wide variety of techno derivatives by a stellar cast. From scene legends such as UK innovator Boddika (with his hypnotic and textural epic "Broken Wave)" and elder statesman Patrik Skoog with the functional, peak-time cyclicality of "Mind Control". For more heady and atmospheric flavours, they have you covered courtesy of Puglia's Distant Echoes on the utterly sublime "Under The Influence" while Acing Seas main men Cassegrain team up with the inimitable Tin Man on the heady acid epic "Opal Stare".The harder edged, dancefloor ready weapons are provided by label head honcho Davenport on the retro, bleep driven "Fluxus", while BNJMN's abrasive "Red Tide" hammers the message home on this true beast that reaches near tribal moments.
…

Read more
Cat: WRR 030. Rel: 14 Nov 13
Techno
Patrik Skoog - "Trip"

R_L - "Chaotic Bliss"

Tapirus - "Unusually Shaped"

Atimpuri - "So Edo"
Items 1 to 2 of 2 on page 1 of 1