Items 1 to 2 of 2 on page 1 of 1
Cat: EKLO 028. Rel: 13 May 14
Minimal/Tech House
Liues Midav - "Retroviseur"

Pap Inc - "Ralf Beckett"
Review: If you don't recognise either of the Pap Inc or Liues Midav names that line this latest release from the Eklo label don't worry. It turns out Eklo founder Seuil is responsible for both tracks here, which according to the label are the "fruits of a diverse collaboration" with compatriot and rising producer Vadim Svoboda. Listen carefully to both "Retroviseur" and "Ralf Beckett" and that much becomes apparent anyway, with the former notable for the jittery funk that keeps trying to escape the stripped back groove that keeps matters on a forward trajectory. Those wanting something with a bit more swing will love "Ralf Beckett" which pays subtle homage to the filter house that French producers excelled at.
…

Read more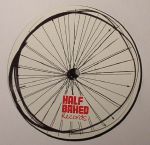 Cat: HB 007. Rel: 03 Nov 15
Minimal/Tech House
Six Bullets (6:48)

Busty Car Wash (6:11)

Brack Bit (5:49)

Cigam (6:35)

Meet Me At The Cosmic Parade (6:25)
Review: London institution Half Baked have been putting on secret warehouse parties for over ten years in the capital and started their in house label in 2013; releasing tracks by Birdsmakingmachine, Mike Shannon and Robin Ordell. Ordell is back on HB 007 as Pap Inc. a collaboration with Parisian minimal auteurs Seuil and Le Loup. It's as quirky as you'd expect really. "Busty Car Wash" is a bumpy, boompty reductionist groove with loads of random voice samples looped endlessly. The funky break on "Brack Bit" treads along tirelessly amidst sinister sound design and dark strings and more creepy voice samples; are they from movies? "Cigam" crosses over nicely into deep house territory with a swing fuelled beat and melancholic pads while "Meet Me At The Cosmic Parade" ends things in glorious fashion; a mini-funk groove that revels in all its micro-sampled absurdity.
…

Read more
Items 1 to 2 of 2 on page 1 of 1