Artists
Items 1 to 2 of 2 on page 1 of 1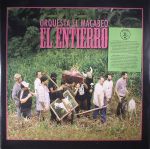 Cat: PRLP 003. Rel: 10 Apr 17
International
El Sueno (3:07)

Alacran (4:17)

Fulana (4:47)

La Dieta (6:01)

Musico (5:32)

Cuto Medina (7:10)

La Conga (4:25)

Cogiendo Pon (3:02)
Review: Northampton, Massachusetts based Peace & Rhythm presents glorious independent music on limited edition vinyl. Funk, world music and jazz are the focal points. Run by DJs, they've also served up some great stuff recently by Big Mean Sound Machine, SPAM Allstars and MAKU Soundsystem. But right here we've got a reissue of Puerto Rico's own Orquesta el Macabeo and their El Entierro LP from 2011 originally on Discos de Hoy. A unique combination of traditional salsa dura elements with a garage/punk/pop spirit featured here that's a truly wonderful listen. This album followed up Lluvia Con Sol in 2013 and last year's La Maldicion Del Timbal.
…

Read more
$34.03
SAVE 33%
in stock
$22.80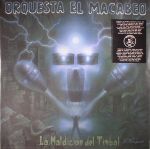 Cat: PRLP 006. Rel: 10 Apr 17
International
Crucero (4:15)

Armonia (5:25)

Saco E Trampa (5:40)

La Funcion (4:25)

La Buena Voluntad (4:42)

Rutina (4:56)

Carrera (3:43)

La Maldicion Colonial (5:02)
Review: Puerto Rican seven-piece Orquestra El Macabeo is one of the most intriguing outfits to emerge from the salsa scene in recent years. Since dropping their debut album Salsa Macabre in 2010, they've been a must-check for those who like their salsa percussive, jaunty and left-of-centre. While the style's traditional instrumentation and structure is present throughout 2016 full-length La Maldicion Del Timbal - here reissued after in initial copies quickly sold out - there's evidence of a wider range of influences than your average salsa set (think quirky western pop, the DIY ethos of punk and of course Afro-Cuban rhythms). It's a bit of a cliche to say that this kind of material is "life affirming", but in this case, it's 100% true.
…

Read more
Items 1 to 2 of 2 on page 1 of 1