Items 1 to 2 of 2 on page 1 of 1
Cat: GV 005. Rel: 20 Jun 16
Techno
DJ Spider - "Toxic Trace 2"

Dakini9 - "Lost Paradise"

Disaroen - "Serious Doorman"

Nicuri - "Ripples of Time"
Review: Storming into our fifth release from the dirty shores of New Jersey, Green Village is proud to present Village Elders 001, a compilation EP featuring new material from artists who have already flown the flag for GV. The A-side is held down by the Plan B duo of DJ Spider and Dakini9, purveyors of the Metro Area's dirtiest and deepest house sounds. Spider gets toxic a second time, following his 2013 Instruction drop with 'Toxic Trace 2', a thickly layered deep house cut whose seedy percussion underbelly contrasts vividly with the more traditional deep house pads that accompany it. Dakini9's 'Lost Paradise' is dark and mysterious like its title, the hats, trumpets, and vocals emerging in tangled webs of dub effects, a strong follow-up to her dope EP for the label. Disaroen, a duo from Toronto, half of which previously appeared on GV, turns in the most barren of the four tracks, 'Serious Doorman', heads-down techno that crackles to life halfway in and an auspicious debut for a promising new group. Last is NJ heavyweight Nicuri, a rising star whose 'Ripples of Time' closes the EP in his signature searching, melodic style.
…

Read more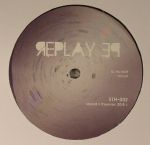 Cat: STH 002. Rel: 25 Feb 16
Techno
No Exit (5:27)

Shinar (6:55)
Review: Nicuri has appeared previously on Sound Theories with the Spectrum EP back in 2014 as well as Growin Music and Yygrec. Now we have the Replay EP featuring "No Exit", this is stomping warehouse techno, New Jersey style, with its grating bassline, harsh metallic strikes and white noise washes; this is one relentless groove! On the flip is "Shinar" which is more on the house tip; the kind of darkly soulful and emotive type: think Strength Music (which he's released on previously) or Soul People Music. A dreamy hypnotising melody, swirling pads and tight groove all round. Tip!
…

Read more
$11.61
SAVE 40%
in stock
$6.96
Items 1 to 2 of 2 on page 1 of 1