Nick The Record
Items 1 to 2 of 2 on page 1 of 1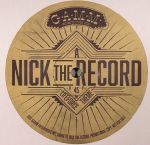 Cat: GAMM 115. Rel: 25 Sep 17
Disco/Nu-Disco
Lifeforce Theme (6:14)

Recordnition (7:28)
Review: Pumping disco funk from decorated digger Nick The Record. "Lifeforce Theme" pays homage to the Japanese party collective he's been with since the early 90s (and played at Japan's first ever outdoor rave with, no less) Loose and rugged but primed with a lavish sense of piano luxury, there's a deep drive and firm uplift that instantly grabs attention. "Recordnition" is a much more heads-down in its nature and focus as we're pulled in by the hypnotic percussion, worming wah wahs and sharp blasts of flutes. As always with Nick, the floor is the foremost focus.
…

Read more
Cat: ZEDDCD 032. Rel: 08 Sep 14
Disco/Nu-Disco
Boogsie - "Can't You See Me"

The Family Tree - "150th Psalm"

Proton Plus - "Pay Up" (remixed rhythm track)

Jean Adebambo - "Say That You Love Me" (DJ Nick The Record re-edit)

Bill Campbell - "Boogie All Night"

Katunga - "Palo Bonito" (DJ Nick The Record re-edit)

Wild Fire - "Try Making Love"

MC & His Great Googa-Moogas - "Keep Your Shoes On! (Stuck In The Groove)" (DJ Nick The Record concise edit)

MC Roscoe - "Feel The Beat" (instrumental - DJ Nick The Record Minor tweek edit)

Leston Paul - "What A Surprise"

Sugar & Spice - "The Beast"

Santth - "Do You Want Me Baby, Like I Want You"

KL Hamilton - "I'm Trying"

Skye - "Ain't No Need" (DJ Nick The Record part 1 & 2 re-united re-edit)

Betty & Beverly Prudhomme - "Tut Tut Twins" (DJ Nick The Record re-edit)

Shelbra Deane - "You Move Me"

Ronnie Jones - "Video Games"

Charlie Mike Sierra - "On The Moon"

Victor Vick - "Rescue"

State Of Grace - "Touching The Times" (instrumental)

Blackway & Helene - "Music For Us" (instrumental)
Review: Given the infamous depth of Nick The Record's vinyl collection, you'd expect this contribution to Z Records' excellent Under The Influence series to be packed to the rafters with unheralded gems. Predictably, it is, delivering 22 cuts that should be thrillingly new to all but the most dusty-fingered collectors. Picking out highlights from such an excellent and in-depth collection is tough, but try the steel drums-laden celebration of Boogsie's "Can't You See Me", the synth-laden jazz-funk badness of "Keep Your Shoes" by MC and His Great Googa-Moogas, and the fizzing, melody-rich 808 electro of Ronnie Jones "Video Games". If that's not enough there's also a swathe of DJ-friendly re-edits from Nick himself.
…

Read more
Items 1 to 2 of 2 on page 1 of 1