Items 1 to 1 of 1 on page 1 of 1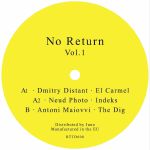 Cat: RTTD 008. Rel: 11 Dec 17
Electro
Dmitry Distant - "El Carmel"

Neud Photo - "Indeks"

Antoni Maiovvi - "The Dig"
Review: Helena Hauff's label is back, this time presenting a various artists 12" that heralds the start of the No Return series. The release starts on a mystical bent with the Eastern-tinged death electro of "El Carmel", sounding ripe for a Hague-friendly warm-up session. Neud Photo then take over with a dystopian trip through rich synth tones coloured in dark hues for the bleakest of robotic fantasies. Antoni Maiovvi fills the B-side with the slow grinding bombast of "The Dig", bleeding out a noirish take on coldwave for the darkest hearts to swoon to.
…

Read more
$7.67
SAVE 25%
in stock
$5.75
Items 1 to 1 of 1 on page 1 of 1