Items 1 to 2 of 2 on page 1 of 1
Winskill (dub) (7:06)

Duckberg (6:11)

Positive Pressure (5:49)

Crystal Pool (5:01)

4B (Dab mix) (6:19)
Review: Aquarian Foundation man Chad Thiessen first donned the Neo Image alias two years ago, delivering a pair of hazy, head-in-the-clouds cuts for Pacific Rhythm's second Rhythms of the Pacific EP. While there are few surprises on this debut solo EP, it nevertheless comes packed with the kind of warm, fluid, drifting and emotion-rich gear that Mood Hut does so well. Highlights include the poignant, slowly unfurling deep house dubbiness of "Winskill Dub", the horizontal house bliss of "Positive Pressure" - all hushed, delay-laden drum machine beats, meandering electronics and enveloping chords - and the glistening, freshwater ambience of "4B (Dab Mix)". "Crystal Pool", a barely percussive shuffle through ultra-deep ambient house territory, is also superb.
…

Read more
Played by:
Dane (Common Edit)
,
Debukas
,
Monsieur Cedric (Serie Limitee)
,
Cottam
,
Ney Faustini
,
Bodhi
,
Gnork
,
Khotin
,
25 Places
,
Aaron L
,
JELLY ROLL SOUL
,
Tell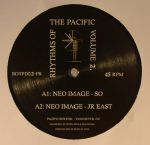 Cat: ROTP 002. Rel: 29 Sep 15
Deep House
Neo Image - "So" (5:01)

Neo Image - "JR East" (4:53)

Florist - "112712" (3:59)

D Tiffany - "Orange Crush" (Plush Managements mix) (5:35)
Review: Given the brilliance of the first Rhythms of the Pacific EP, slipped out some 12 months ago by Vancouver store and party crew-turned record label Pacific Rhythm, hopes are naturally high for this belated follow-up. Happily, it's every bit as magical as its' predecessor. Neo Image kicks things off with "So", a warm, evocative and dreamy blend of broken beat, downtempo and garage influences. He follows this up with the similarly heady "JR East", whose drawn-out ambient chords are accompanies by clattering drum machine hits and tactile electronic melodies. Flip to the B for the typically deep and dusty Vancouver house bliss of Florist's "112712" and the gritty, dubbed out deep house brilliance of D Tiffany's "Orange Crush (Plush Managements Mix)". Like the rest of the EP, it's utterly beguiling.
…

Read more
Played by:
Dane (Common Edit)
,
Nathaniel Jay (Love Notes)
,
Jacques Renault
,
Bantam Lions
,
Watson
,
Jeremy Underground
,
Paul Thornton (Dig Deep / Reboot)
,
Monsieur Cedric (Serie Limitee)
,
Rising Sun
,
Juno Recommends Deep House
,
Vorres (Vrrs)
,
Bovill
,
Fantastic Man
,
Joe Montana
,
Djs: Most Charted - Deep House
,
Young Adults
,
Cooper Saver
,
E S - Q
,
Rikki Humphrey
,
Edward Navarro
,
Khotin
,
Uabos
,
Thread London
,
25 Places
,
Shine Grooves
,
Frotee
,
Michael Walsh
,
Ptaki
,
JELLY ROLL SOUL
…

Read more
Items 1 to 2 of 2 on page 1 of 1