Items 1 to 2 of 2 on page 1 of 1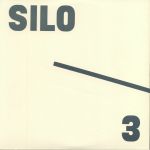 Cat: SILO 003. Rel: 30 Oct 17
Ambient/Drone
Bugaled/Blove - "Deux Tiers D'aucun" (5:48)

MMY - "Holorime" (7:45)

Lea Caussat - "Percuflutiere" (7:21)

Kapak - "Les Ciels De Plomb" (4:37)

Mtua - "L'oreille Au Creux Du Bras" (12:34)

Anna Holveck - "Dum Dum Dum" (2:18)
Review: The heavens have answered our prayers - it's the third helping of Silo Editions up on our shelves, and that means we actually get to review some good ambient this week! The enigmatic label have flown below-radar since their inception, and that is exactly what's helped them to gain more and more respect from a sub-scene so obsessed with surface appearances. That is, they've now conquered the minds of critics who actually base their judgments on music rather than frivolities. Much like the previous outing, SILO003 introduces us to a whole range of new talents, from MMY to Lea Caussat and Kapak; the one thing all these artists have in common is their utter neglect for anything grounded in sanity or predictability. Not once do we get the impression of sterility... each and every moment on here is grounded in improvisation and hedonism. Just like it should be.
…

Read more
Cat: SILO 001. Rel: 31 Oct 16
Ambient/Drone
Track 1 (7:29)

Track 2 (3:31)

Track 3 (6:35)

Track 4 (7:45)

Track 5 (3:44)

Track 6 (4:13)

Track 7 (17:11)

Track 8 (9:55)

Track 9 (6:54)
Review: For their first issue, French label SILO inaugurate their label by combining several different musicians for their first collaboration. MTUA (Matthieu Reynaud) and Tom Villiers Moriame offer up six tracks, then an MTUA and Vincent Roussel collaboration on the second disc. Developed through three explorations, the label elaborates that "processed speakers and acoustic objects mix together.. harmonize themselves." They presented the possibility to gather artists and allow them to experiment in a rather unique sound setting: a large concrete silo, with the sound endlessly reverberating around them. All in all a rather immersive and isolating sonic experience, with the particular sound dynamics of performing in such an unusual setting truly evident on all tracks.
…

Read more
$22.10
SAVE 30%
in stock
$15.47
Items 1 to 2 of 2 on page 1 of 1