Mr Scruff
Items 1 to 2 of 2 on page 1 of 1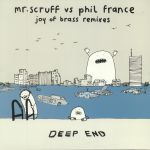 Cat: GOND 019. Rel: 02 Oct 17
Broken Beat/Nu Jazz
Joy Of Brass (Mr Scruff remix) (8:11)

Joy Of Brass (Mr Scruff Bumpy dub) (5:26)
Review: Following the re-release of his 2013 album The Swimmer, Cinematic Orchestra's Phil France provides the delicate parts of his modern classic piano composition "Joy Of Brass" to card-carrying Gondwana fan Mr Scruff and gets two exceptional remixes in return: the main remix shuffles with a soft, slow lolloping jack and some beautiful yearning chords soaring over the top in an almost Nordic cosmic style. His Bumpy Dub, meanwhile, taps into the bruk renaissance with a smoky halftime break and a bassline that borders on KOAN territory. In a nutshell? Scruffy's turned in two blinders here.
…

Read more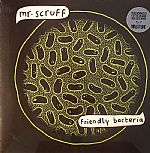 Cat: ZEN 209. Rel: 19 May 14
Broken Beat/Nu Jazz
Stereo Breath

What

We Are Coming

Render Me

Deliverance

Where Am I

Catch Sound

He Don't

Come Find Me

Thought To The Meaning

Friendly Bacteria

Feel Free
Review: It's been some six years since Mr Scruff's last album, roughly the average length of one of his marathon DJ sets. Much has changed in the musical landscape since then, but the tea-loving Mancunian is still ploughing his own mixed-up, soul-influenced furrow. That means tracks that comfortably meld hip-hop, dub, jazz, dubstep, downtempo groovery and - most pleasingly - broken beat. It's actually the album's "bruk" moments - the Vanessa Freeman-voiced West London soul of "Come Find Me" and thrilling Robert Owens hook-up "He Don't", in particularly - that really set the pulse racing. Of course, confirmed fans will find plenty more to enjoy, from the baggy sweetness of "Render Me" to the classic Scruff-isms of "What", which sounds like something from his 1997 debut on Pleasure Music.
…

Read more
Items 1 to 2 of 2 on page 1 of 1