Items 1 to 1 of 1 on page 1 of 1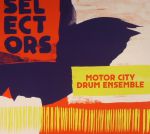 Cat: DKMNTLSLCTRS 001CD. Rel: 30 May 16
Deep House
DJ Slym Fas - "Luv Music"

House Of Jazz - "Hold Your Head Up"

20 Below - "A Lil Tribute To The Moody Black Keys"

Risque III - "Essence"

Licky - "African Rock"

Raphael Green - "Don't Mess With The Devil"

AHZZ - "New York's Movin" (instrumental)

Bill Deal & The Rhondels - "Freak N Freeze"
Review: The fact that the vinyl edition of Motor City Drum Ensemble's Selektors compilation - the first in Dekmantel's crate-digging series - sold out in record time tells you all you need to know about this superb set. Packed with obscure, hard-to-find gems, it does a fantastic job in showcasing the depth, quality and variety of Danilo Plessow's record collection. Check, for example, the breezy soulfulness of DJ Slym Fas's 1997 gem "Luv Music", Risque III's early Chicago deep house killer "Essence Of A Dream", and the ludicrously expensive (if Discogs is to be believed) jazz-funk-goes-disco boogie brilliance of Licky's 1979 obscurity "African Rock". If you dig disco, deep house and boogie, you need this in your life.
…

Read more
Items 1 to 1 of 1 on page 1 of 1