Items 1 to 2 of 2 on page 1 of 1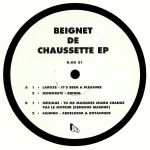 Cat: DKO 21. Rel: 20 Mar 18
Deep House
Laroze - "It's Been A Pleasure" (5:44)

Monomite - "Riding" (2:51)

Mezigue - "Tu Me Manques Mumu Change Pas Le Moteur" (Kensous Mashup) (5:18)

Sandro - "Abdelkrim & Botanique" (5:09)
Review: Rolling up sock donuts since 2013, the evergreen D.ko imprint serves up a feast once more with this delicious all-French V/A 12. Laroze makes his D.ko debut with a sprightly disco gem before Monomite adds a dash of sleazy boogie funk before Mezique takes us right back to the peak of Paris's discotheque scene with infectious robo-funking insistency. Finally label familiar and Rag Dabons cohort Sandro closes with a dewy eyed slice of emotional acid. Au revior.
…

Read more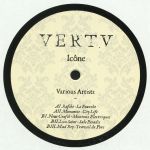 Icone
(12" in hand-stamped sleeve)
Cat: VRTV 003. Rel: 17 Oct 17
Deep House
Rafiki - "La Fourche" (7:11)

Monomite - "City Life" (5:20)

Neue Grafik - "Moutons Electriques" (6:34)

Lieu Saint - "Sale Paradis" (5:01)

Mad Rey - "Travail De Porc" (5:17)
Review: The free spirited sound of underground Parisian house soul; Neue Grafik, Hybu and EVANS' new label hits release three with a new homegrown concept; "Icone" is a home for the city's kindred spirits to unite and share smoky, soft-focus narratives. The woozy horns of Rafiki's "La Fourche", Monomite's somnambulant soul on "City Life", Neue Grafik's broken-drum cascades on "Moutons Electriques", Lieu Saint's subverted Jersey-scented filtered house on "Sale Paradis" and the iconic drum machine technoid stutters and oceanic washes of Mad Rey's "Travail De Porc". Each cut unrestrained and hugely versatile; Vertv are not to be diverted from.
…

Read more
Items 1 to 2 of 2 on page 1 of 1