Items 1 to 2 of 2 on page 1 of 1
Cat: HAND 12017. Rel: 23 Nov 15
Broken Beat/Nu Jazz
Pots & Pans Ceremonial (intro) (1:19)

Foundation (2:00)

Keep Cool (2:15)

Paradise (3:37)

Club (skit) (0:21)

Harvest (2:34)

Where's The Salad (0:10)

Find Out What You Want (2:26)

Sign (1:11)

Second Start (0:25)

Breathe (1:47)

Orphan's Lament (3:41)

Foundation Rhythm (0:15)

Don't Poison All The Water (2:41)

B Feeling (skit) (0:13)

Texture Like Sun (Golden Brown) (2:29)

Tears & Sand (1:40)

A Soul's Journey (2:33)

Pass It Round (2:42)
Review: Joseph Deenmamode scored one of the albums of 2014 with the eponymously titled Mo Kolours effort released through One Handed Music. Given the critical praise for that album, you'd forgive the Mauritian-English musician wanting to take some time away from the spotlight, but if anything its spurred him onto greater things. A fine single issued over the summer, How I (Rhythm Love Affair), is now followed by the second Mo Kolours album Texture Like Sun, which presents a more confident (and dare we say less stoned) Deenmamode. Across eighteen tracks the Mo Kolours sound touches on house, dub, hip hop and soul delivered with the panache of the West Coast beat scene and largely populated by Deenmamode's own soulful croon. There are some killer skits along the way ("Where's The Salad" in particular) and a fine cover of The Stranglers cover from which the album takes its name.
…

Read more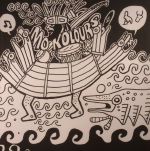 Cat: 22A 016. Rel: 21 Aug 17
Broken Beat/Nu Jazz
Cerasee Doctor (3:05)

Margoze (2:48)

Goya (0:32)

Meroe (3:40)
Review: Sample-loving downtempo fusionist Mo Kolours has yet to make a duff record, so hopes are naturally high for this dinked 7" single on 22a. Predictably, he's in fine form throughout, sauntering between seriously dubbed-out, tropical-tinged hip-hop beats (the ultra-baked heaviness of "Cerasee Doctor"), heavyweight Mauritian drum jams ("Margoze") and hard-to-define Indian Ocean funk (the fretless bass, weird noises and handclaps of quick-fix "Goya". He leaves the best till last, with the skewed hip-hop funk of "Menroe" - all wonky synth-bass, crunchy beats, sampled chants, tropical hand percussion and dubbed-out electronic stabs - hitting home hardest; he's still not made a bad record.
…

Read more
Items 1 to 2 of 2 on page 1 of 1