Artists
Items 1 to 2 of 2 on page 1 of 1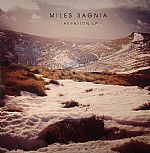 Cat: AER 008. Rel: 17 Feb 14
Deep House
Enchanted Waters

Dream State

Elegy

BQ2

Thoughts Of A Passing Moment

Drifting To The Echoes Of The Spirit

Aetherius

How Can We Know?
Review: Acclaimed for many of his compositions on labels such as Aesthetic Audio, ART, Ornate, alongside his blistering DJ performances. AER boss Miles drops the label's first and his debut album. Deep is a word often used to describe a lot of music currently out there, but not many touch the depths of this superb LP on Atmospheric Existence. Miles touches on many shades of sound with his trademark emotive warmth. Melancholy but positive vibrations flow out alongside abstract grooves. Hypnotic elements grace the journey, creating an otherworldy sense of space and distant unknown entities. Feeling & mood leap out of this LP at every twist and unexpected turn, circumnavigating the deep spectrum. Since his early releases, his imprint AER has become a highly respected imprint globally with a dedicated following. This LP was constructed to stand the test of time and stand it does, firmly rooted in the Cosmos.

…

Read more
Played by:
Tomi Chair
,
Nick P Warren
,
Flori
,
Life Recorder
,
Ethyl
,
Owain Kimber (Owain K)
,
Kirk Degiorgio
,
1DAN
,
Moralez (Mosaique)
,
Malcolm Moore (Altered Moods)
,
Steven Tang (Emphasis Recordings)
,
Juno Recommends Deep House
,
Ruthit
,
John Shima
,
Miles Atmospheric
,
Joe Bonez (Burek)
,
OCH
,
Brad P/Inner Shift/Common Dreams
,
Djs: Most Charted - Deep House
,
Carl H (ANIMALS ON PSYCHEDELICS )
,
Aubrey
,
Rikki Humphrey
,
Janeret
,
Tom Sevinski (Black Key Records)
,
Steevio
,
Colman Buckley
,
Ka One (Flyance Records)
,
DJP / Soul Print Recordings
…

Read more
Cat: ISM 002. Rel: 08 Jul 13
Deep House
Mick Welch - "Cephid Variable"

Rai Scott - "Beyond Earth's Atmosphere"

Miles Sagnia - "Tears Of Saturn"

Brad Peterson - "Ice Planets"
Review: The second release for the Inner Shift music group comes as four track various artists EP. First up is Mick Welch with his second outing, supplying some deep and Chicago rhythmic house, eloquently introducing an acid bass line later on the piece, which he then breaks down further with jacking drum patterns of the John Heckle variety. It's also Rai Scott's second outing and he opts for movie soundtrack horns, synths, and subtle tribal percussions that give "Beyon Earth's Atmosphere" that little extra push. Miles Sagnia adds some distinguished weight to the EP alongside Brad Peterson, with Sagnia flirting with trancey elements in "Tears of Saturn", while Peterson strips his mix back with raw kicks, softened by hollow tribal drums and spacey synths.
…

Read more
Played by:
Owen Jay (Batti Batti / Gauss )
,
Brian James
,
Tomi Chair
,
Life Recorder
,
Miles Simpson
,
Ernie (Minuendo Recordings)
,
F-on
,
Gaetano Battista
,
Hernan Cronner
,
Taelue
,
Mick Welch (Elektrosouls)
,
Chicagodeep
,
Satore (Hizou Deep Rooted Music)
,
Marcelo Tavares
,
Juno Recommends Deep House
,
Richard Zepezauer (RZ-1)
,
Miles Sagnia
,
Doo
,
Sir Lord Comixx
,
Diego Perrisson
,
Andy Green [Verdant Recordings]
,
Brad P/Inner Shift/Common Dreams
,
Djs: Most Charted - Deep House
,
Gnork
…

Read more
Items 1 to 2 of 2 on page 1 of 1