Items 1 to 2 of 2 on page 1 of 1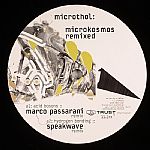 Cat: TRUST 011R1. Rel: 07 Jun 07
Techno
Acid Bosons (Marco Passarani remix)

Hydrogen Bonding (Speakwave remix)

Mechanical Empire (DJ Glow remix)

Midnight Moroder (Alexander Robotnick remix)
Cat: TRUST XVII. Rel: 10 Dec 14
Electro
Dez Williams - "All That Remains"

Stingray - "Infrastructure Renewal"

Biepang - "A Silhouette For Every Surface"

DJ Glow - "Hardware Encryption"

Scape One - "Alternate Pathways"

Mircrothol - "Eigenstate Modulator"
Review: The inaugural edition of the TRUST XV trilogy released back in June was a fine opening gambit from DJ Glow's long running TRUST label, with some electro from Clatterbox, VC-118A, and Morphology's Matti Turunen every bit as epically futuristic as the artwork. It's fair to say Glow has pulled out the big guns for this second edition of TRUST XV, with DJ Stingray Dez Williams and Scape One amongst the contributors. Both Williams and Stingray respectively demonstrate the abstract lengths you can take the genre with the strangely alluring "All That Remains" and lopsided lo fi banger "Infrastructure Renewal". From here Biepang and DJ Glow offer up more traditional electro cuts with the former's "A Silhouette For Every Surface" quite beautiful. Scape One and Microthol add a degree of darkness to proceedings with the two tracks that round out the compilation.
…

Read more
Items 1 to 2 of 2 on page 1 of 1